Fair business management
Corporate governance structure
SMK considers corporate governance to be the development and operation of a system to realize sound and effective management and is working to improve and strengthen it. Separating the offices of chairman and president and introducing an executive officer and external board member system in April, 2002 to clearly separate management decision-making and business supervision by the board of directors and the business execution functions of executive officers is a system that allows management responsibility to be clarified and speedy management decisions to be made. Furthermore, the board of auditors is made up of four auditors, two of which are outside auditors who supervise directors' performance of duty from an objective standpoint (as of June, 2012). Also SMK adopted Internal Control Reporting System based on" Financial Instruments and Exchange Act" which became effective in 2008. SMK is striving to improve internal administration management with submitting Internal Control Report to authorities from June 2009.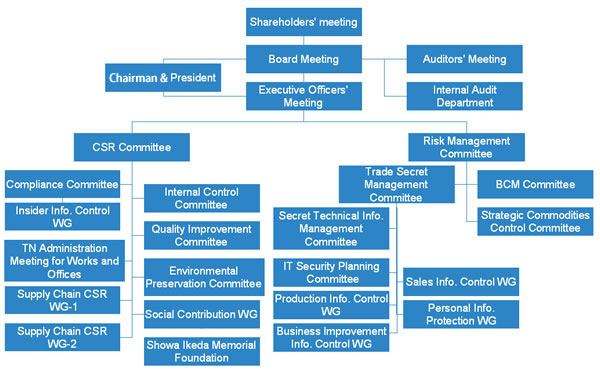 Approach to compliance
SMK started promoting compliance by establishing the "SMK Group Charter of Corporate Code" in 1997.  The Compliance Committee was set up in 2005 and the "SMK Group Code of Conduct" was established in April, 2006.  The Charter and Code relating to such compliance were translated into Chinese in addition to Japanese and English, and distributed as a pamphlet to group employees all over the world. In addition, a compliance briefing was held for all group employees to familiarize them with compliance matters.  Additionally, an internal and external SMK ethics help-line was established and started operating in July, 2006.  A customer satisfaction survey and SMK compliance questionnaire aimed at suppliers are also regularly implemented, and assessments of SMK as well as valuable opinions and advice regarding its compliance efforts are reflected in CSR activities.
Basic ideas on eliminating antisocial forces and the status of development
SMK shall take determined action against and reject any connection with antisocial forces and groups that threaten the order and safety of civil society. It is cooperating with external expert organizations, such as the police and lawyers, in the event of receiving unreasonable demands by antisocial forces.   SMK is observing the "SMK Group Charter of Corporate Code" and the "SMK Group Employees' Code of Conduct" by making employees aware through those documents that they must reject any relationship with antisocial forces and groups that threaten the order and safety of civil society. As an internal point of contact for reporting improper action within the company, SMK has established an "SMK Ethics Help-line" that guarantees anonymity, and developed systems to prevent any relationship with antisocial forces while improving business ethics.
SMK Group Charter for Corporate Behavior
SMK-Group, in addition to being economic entity engaged in the pursuit of profit through fair competition, must be useful to society as a whole. For this reason, SMK-Group will adhere to the following nine principles; respect the letter and spirit of all laws, whether domestic or foreign, and of international rules, and behave in a socially responsible manner.

1. For customers' confidence, we will develop and provide superior goods in terms of quality, cost, and safety through our accumulated advanced technology.

2. To be understood/supported by customers, business partners, and shareholders, we will engage in fair, transparent, and free competition, under the spirit of independence, self-help, and self-regulation.

3. We will promote communication with society, by fairly disclosing corporate information, as an open enterprise in the advanced information network age.

4. We will take independent and positive action, fully recognizing the necessity of environment conservation.

5. We will strive to make it possible for employees to lead pleasant and enriched lives, by guaranteeing a comfortable and safe work environment and respecting employees' dignity and individuality.

6. We will stand firm against antisocial forces and organizations that threaten the order and security of civil society.

7. In overseas operation, we will observe international rules, respecting the cultures and customs of the hosting society, and will manage ourselves in a manner that contributes to local development as good corporate citizen.

8. In order to turn the spirit of the Charter into reality, top executives will always listen to the voices within/outside SMK, take the leadership to make all relevant Group people be fully aware of the Charter and to bring corporate systems into line with it, and will endeavor to cultivate corporate ethics.

9. When the charter is violated, top executives will take the initiative in resolving the problem, endeavoring to clarify its causes and prevent its recurrence, and take necessary action as explain precisely to the society/punish responsible person including themselves.
SMK Group Code of Conduct

The SMK Group Code of Conduct was issued on April 1, 2006 with our eyes set on getting ourselves prepared for increasing social requirements for CSR. This Code succeeds the concept of the "SMK Group Charter for Employee Behavior" that can be considered as the basic philosophy of promotion by SMK of CSR, and specifically defines events that constitute the base of promotion of compliance.
Introduction
This SMK Group Code of Conduct sets forth the basic internal regulations to be observed by all officers and employees of SMK Group. SMK Group commits itself to be bound by this SMK Grope Code of Conduct and at the same time requests all officers and employees of SMK Grope to read, understand, and comply with this SMK Group Code of Conduct.
1.General provision
1) The Purpose of This Code
2) Scope of Application

2.Relations with Customers, Suppliers and Competitors.
3) Product Safety and Quality
4) Establishment of customers confidence
5) Free and Fair Competition
6) Fair Transactions with Suppliers of Materials and Services
7) Entertainment and Gifts
8) Fair Advertising and Public Relations
3.Relations with Society
9) Compliance with Laws
10) Social Contribution
11) Prohibition of Child Labor and Forced Labor
12) Donations and Limit of Political Donations
13) Sland against antisocial forces
14) Environmental Conservation and Protection
15) Compliance with Laws Concerning Import and Export
4.Relations with Shareholders and Investors
16) Disclosure of Management Information
17) Prohibition of Insider Trading
5. Relations with Employee
18) Respect for Human Rights, Prohibition of Discriminations
19) Protection of Personal Information
20) Safety and Health in the Workplace
6. Relations with Our Company and Its Assets
21) Compliance with Employment Regulations
22) Appropriate Accounting Procedure
23) Prohibition of Private Activity
24) Control of Business Confidential Information.
25) Appropriate Use of Corporate Assets
26) Protection of Intellectual Property (Rights)
7.SMK Ethics Helpline
27) SMK Ethics Helpline
8. Supplementary Provision
28) Improvement, or Amendment of This Code of Conduct.
29) Reference
30) Penalty
31) Submission of Pledge Card
32) Enforcement
SMK Code of Conduct shall be effective as of 1 April 2006.
Revised August 1st, 2007.
IR activities
SMK has emphasized the importance of impartial and continual provision in a timely manner of information necessary for making investment decisions to the current shareholders and potential investors into SMK's shares.
Materials we made public include not only those obligatorily required for disclosure such as financial statements and short form financial reports but those we autonomously provided for IR presentation meetings.
Specifically, we have conducted the following activities:
①MOVE-UP statements
Example: Announcement of financial statements for the term ending Mar. 2007 → April 25, 2007
②DISCLOSURE the of contents
(To include explanatory materials used during the business result presentation meetings, in addition to business result presentation materials )
⇒Click here for more information
③An IR briefing is regularly held twice a year ( whole financial year/second quarter) for institutional investors
④Holding a company presentation session for shareholders on the days of shareholders' meetings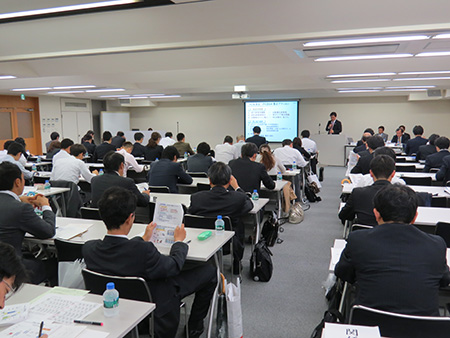 IR briefing for institutional investors