Environmental Management
Organization to Promote Environmental Preservation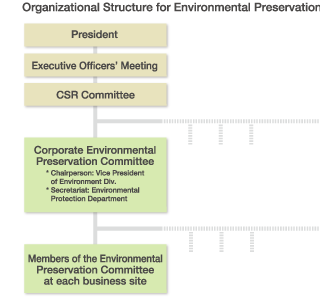 In SMK, the Group policies, targets, and initiatives related to environmental preservation are deliberated upon and determined by the Corporate Environmental Preservation Committee, which is chaired by the Vice President of the Environment Division. Major items are subject to deliberation and determination at the Executive Officer's Meeting. Upon determination, they are deployed at all Japan and overseas works. At each business site, the local Environmental Preservation Committee decides local policies, targets, and initiatives in accordance with the Group policies, targets, and initiatives taking locally specific issues into consideration and puts them into practice.
Environmental Management Systems
SMK's environmental management systems are in accordance with ISO 14001, the international standard for EMS.
We have obtained ISO 14001 certification for all of our Japan sites and overseas works. Since fiscal 2007, in addition to individual activities at each site, we have been setting targets and themes to be shared by all members of the SMK Group, reinforcing linkage among our sites, and working to strengthen group-wide systemic arrangements.
SMK's environmental preservation activities are not limited to our Group. The Green Procurement Guidelines that we published in 2004 also make demands on our suppliers. Specifically, we request our suppliers to pledge not to use any environmentally hazardous substances prohibited by SMK, and to put in place ISO 14001-based systems. We visit suppliers who have not obtained ISO 14001 certification to check on the status of their environmental preservation activities, and to suggest any necessary improvements.
Environmental Education
SMK implements environmental education by levels of employees throughout the Group, and as a part of the professional education curriculums. In addition, each business site makes its own annual education plans.
We also encourage our employees to take the Certification Test for Environmental Specialists (also known as the Eco Test) administered by the Tokyo Chamber of Commerce and Industry. Every year since the first test in 2006, we have gathered candidates, purchased textbooks, and provided assistance with the burden of exam fees. As of 2011, a total of 57 of our employees had passed the test, and they are helping to guide and advance environmental preservation activities at each workplace.