Message from the Management and Vice President of Environment Div.
Becoming a Value-creating Company that
reconciles Sustainability with Growth.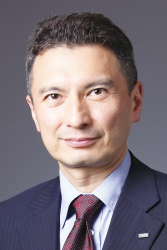 Yasumitsu Ikeda
President and
Chief Operating Officer

An unprecedented disaster and a global credit shortage have had a profound impact on the business environment.
However, to me, these circumstances also sound a clarion call urging us to create new value. We are presented with an opportunity to reassess our direction as people, as amanufacturer, and as a corporate citizen, towards the realization of a safer and happier future.
SMK's business is predicated on environmental sustainability. Uppermost in our minds is a focus on our responsibility to go on offering products that provide solutions to a variety of issues, first and foremost issues of resources and energy. And in addition to this, we also recognize that it is precisely within this focus on contributing to the preservation of the global environment that new business opportunities for SMK lie.
We will direct further energy towards the creation of products that will reduce our environmental burden and promote recycling, for example in the areas of natural (renewable) energy, energy conservation, such as HEMS (home energy management system), and low-carbon products, as exemplified by hybrid cars.
We will also continue, and intensify, our efforts to eliminate loss from all of our processes ("Muda, Mura, Muri" initiatives).
For instance, our Corporate Environmental Preservation Committee, of which the top management of all our domestic and overseas production facilities are members, functions in each of our workplaces to monitor our level of achievement of targets for the reduction of CO2 and waste products, and plays a significant role in our efforts to control any waste of energy or resources in our business activities.
SMK has received a high ranking in a survey of environmental management conducted by the Nikkei Inc., and I take no little pride in the fact that this is an outcome of our consistent efforts and of changes in our attitude towards our tasks.
However, we are still on our way. I remain aware that the crucial period in the challenge we have presented ourselves to create new value lies ahead of us.
With these thoughts in mind, I present the SMK Environment Report 2012 to all our stakeholders.
Have no doubt that you can expect even greater things from SMK in the future.

June 2012
Reaching Higher to Open the Door to A New Era of Eco-friendly Technology
Yoshio Sakurai
Vice President of
Environment Div
Energy conservation, the reduction of CO2 emissions, the reduction of waste and harmful substances, further advances in environmentally friendly and miniaturized technology… At SMK, we push ourselves to respond to these environmental goals both more broadly and at a higher level.
"More broadly" encompasses efforts in a broad range of areas, including manufacture, use, transportation, and marketing.
"At a higher level" refers to the ambitious targets that we set ourselves.
For instance, we set ourselves the target of reducing our peak power usage in summer 2011 by 25% against figures for the previous year. We actually achieved a reduction of 28%. This will not be a one-off achievement; the expertise in energy conservation that we attained in doing so will be extended to the SMK global network.
I believe that the eco market will develop rapidly, propelled by a new awareness of energy conservation following the earthquake and tsunami disaster. Against this background, as a company that has attained a level of technological capacity enabling it to respond on all fronts, including conservation of energy and resources, the realization of increased efficiency, and environmentally friendly design, SMK will fulfill its responsibility as a corporate citizen through the provision of eco-conscious products.
It is well known that the miniaturization of electronic parts advances as an inevitable consequence of the needs of customers and the market. It is standard procedure to reduce size in order to ultimately reduce resource and energy use. But this is not enough for SMK. It goes without saying that we seek to reduce waste and energy use in our manufacturing processes, but more than this, we also strive to create products with consideration of their entire life cycle. The standardization of the life cycle assessments (evaluations of environmental impact) that make this possible was established as a target in our Mid-term Plan, and we are working to render our environmental burden visible in this way.
It was agreed at COP17, held in 2011, that the term of the Kyoto Protocol should be extended, and that Japan would not face new obligations for reductions from 2013. There has been no change, however, in the fact that we will go on working towards voluntary emissions reductions under the leadership of the government.
Naturally, SMK views contributing to the fight against global warming as an important agenda, and we will continue to make global efforts in this area. In doing so, we will always bear in mind our responsibility to make the scope of our activities broader and the level of our targets higher.

June 2012