Relationship with Employees
Respect for people - Human rights/Equal opportunity
SMK has provided employees with support for successful harmony of each individual's work life and private life.
■ Provision for respecting human rights in the SMK Group Code of Conduct
SMK has laid down a provision in the SMK Group Code of Conduct for respect for human rights. There, it has been set as our basic principle that we respect each individual's human rights and that we do not conduct any acts that may discriminate against people or damage people's dignity because of their birth, nationality, race, ethnic group, belief, religion, gender, age or any disability.
■ Child-care leave of absence system
This system is for people who apply themselves (men or women) to child care. The term of leave of absence due to this system is three years, maximum.
Female employees: May take three years maximum after completion of maternity leave (eight weeks paid leave each side of childbirth)
Male employees: May take three years maximum after childbirth.
■ Nursing leave of absence system
This system is for people who apply themselves to nursing their parents, spouse or children.
The term of leave of absence due to this system is one year, maximum.
■ Other leave of absence systems
These systems are flexibly made available to people who participate in volunteer or self-development activities.
■ Short-time working system
This is a system for people who work while undertaking child or nursing care. Daily working hours for this short-time working system are 5 hours and 45 minutes to 7 hours and 45 minutes depending on the applicant's needs. Periods of short-time working:
(1) Child care: Until the child starts attending primary school
(2) Nursing: One year at the longest
■ Working system while rehabilitating
This is a system to allow for smooth return to work for people who have left their work places for a long time due to accident or sickness. Daily working hours are 1hour and 30 minutes to 7hours and 30 minutes depending on the applicant's needs for a maximum period of seven months.
■ In-house FA system
This is an in-house free agent (FA) system which aims to provide desired working opportunities for employees request, improve both their motivation and enhance their ability to work under certain conditions. The person who acquired right of FA can request company to get a chance to transfer another job within company.
■ In-house open recruitment system
The SMK Group has an in-house open recruitment system where each division solicits the wishes of a wide selection of employees when recruiting staff. The division the successful recruitment candidate is leaving cannot refuse the transfer.
Employment/Labor relationship
SMK strives to help its employees realize broadmindedness and affluence and ensures a comfortable and safe working environment, as well as respecting their personal quality and individual characters.
■Observance of international rules
SMK will observe international rules while respecting local customs and culture whether domestic or overseas, and run business in a manner that will contribute to the development of every site as a "good corporate citizen".
■Labor relationships with good communication
SMK has established a good relationship between the corporate management and employees with a good understanding of each other. At the beginning of every fiscal term, an opportunity for communicating the company's targets set for the term, called the business plan presentation meeting, is provided. This is to share information about corporate management policy for the year between the corporate management and employees and promote employees' understanding of the policy. In addition, the wage system has been altered by the Payroll Committee inaugurated with representatives from both the corporate management and employees.
Personnel system/Human resource development
SMK has enhanced many systems. Some of them are to nurture human resources with a will to challenge the unknown with an ability of autonomy, independence, self-supporting efforts and self-responsibility and to allow them to manifest their aptitude and develop.
■ Transnational personnel system
SMK offers equal opportunities to all employees both nationally and internationally by standardizing a grade system in the whole group. In addition, all the main personnel systems, such as the human resource development system, assessment system, and promotion system, are operated on a transnational basis.
■ Nurturing human resource
SMK has an education and training system established to support each individual employee covering new employees up to manager level personnel no matter where they work, no matter what level they are at and no matter what function they are responsible for. The SMK Group has provided education and training in combination of level-specific education, function-specific education such as sales/marketing, engineering and production management, OJT made available by attached organizations, and correspondence courses (Half the tuition cost will be repaid to those who completed their courses within the defined period.) As a transnational enterprise, English was positioned as an official language in April, 2001. In Japan, a language learning program is well provided (fees for in-house English and Chinese classes and commercial language school tuition are subsidized).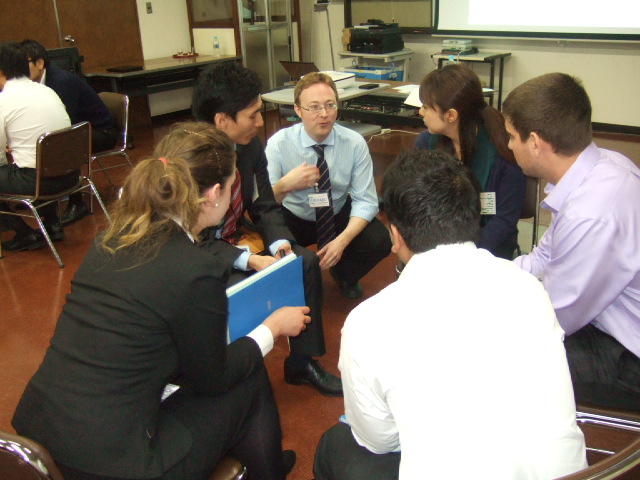 Global Mind-set Workshop
■ Assessment system
・Target management system
At SMK, every employee defines their target on their own for every fiscal year, assesses their achievement with their superior on closure of the fiscal year and discusses subjects for the next year. This is to assess their contribution to the company and development in a fair manner to promote their further development. Achievement levels of their targets are linked to performance evaluation for reflection of their individual efforts on their treatment.
・Personal Statement Program
The Personal Statement Program is implemented in January every year for all company employees. This is an opportunity for each employee to submit their suggestions, proposals and wishes to the Company, other departments and the department which they are attached to. What is declared will certainly be evaluated and put into practice if found to be good.
■Optimized balance of work and life
SMK has tried to better its uniquely design personnel system over stipulations of relevant laws so that each employee can exert their ability to a maximum extent in accordance with diversifying life styles. A flexible working hour system, flexible holiday system, child-care leave of absence program (three years), short-time working system, and working system while rehabilitating make SMK's back-up system perfect for employees to enjoy their life in a productive manner. Furthermore, our business locations transnationally spread across the globe have comprehensive programs and systems meeting their local customs and needs.
Health and safety
To attain ease of mind and affluence and secure a comfortable and safe working environment for our employees, SMK has implemented the following approaches:
■ Approach to secure safety
Each year, all of our factories within and outside Japan organize firefighting and evacuation drills for the safety of personnel and to raise disaster awareness. With the cooperation of the local fire department, we have formed an active firefighting brigade at our business locations, which prepares for disasters by learning about fires and how to tackle blazes in their initial stages and carrying out evacuations. In case a rescue is needed, the firefighting brigade plays a key role. We also set up an Automated external defibrillator (AED) to aid not only employees but also residents of the neighborhood.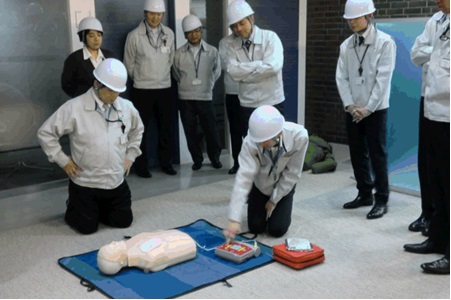 ■Tackling health maintenance
To help employees maintain and promote good health, we use company networks, morning messages and the like to provide them with the health insurance association's information, advice or campaigns. We want each individual employee to be healthy, so we have also set up a subsidy fund to help them maintain their health.
■ Mental health maintenance
As initiatives to improve mental health care, we are conducting self-care training for all employees as a preventive measure and courses for managers. Furthermore, we have improved our advisory service with specialist staff from contracted medical institutions and in-house advisors, and are working on the early detection of mental disorder and reinstatement support making use of a rehabilitation workday service.