Green Procurement Guidelines
Toward realization of "sustainable development of society"
To all our suppliers
Amid increasingly growing recognition among us humans nowadays that "global environmental issues are vitally important", our endeavor for prevention of global warming by containment of emission of carbon dioxide, structuring of an economic society where reduction and recycling of industrial waste is daily life and preservation of biological diversity and prevention of environmental contamination through control of chemical substances is becoming more and more crucial for our future.
The SMK Group has promoted its endeavor in most respects in development of products and in all activities made by our factories and other business locations in an environmentally considerate manner, under the recognition of "the environment is one of the important matters for corporate management". Without strengthened environmental preservation activities and placing importance on procuring less environmentally hazardous substances, it is difficult to make such endeavors more effective and fruitful.
The SMK Group has developed a Green Procurement Standard to help materialize such an idea together with its suppliers by creating more environmentally friendly products with a serious focus placed on the environment.
Success in our Green Procurement program totally depends on the support of you, our suppliers. It is sincerely requested that all our suppliers understand the importance of environmental preservation and provide us with support for successful implementation of this procurement program.
Green Procurement Guidelines PDF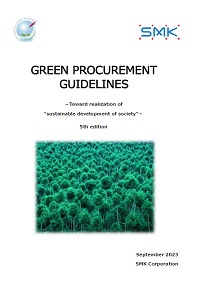 Green Procurement Guidelines
 (PDF, 1.0MB)