Top Message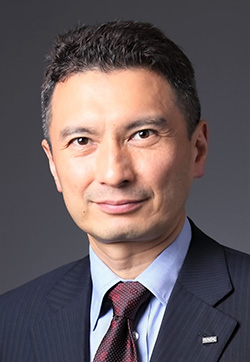 Yasumitsu Ikeda President, CEO and COO
The Covid-19 pandemic has transformed the world and brought about a significant change in our lifestyles. Now the challenge begins to build a better future in the post-COVID-19 era.
With less than 10 years to go to meet the United Nations Sustainable Development Goals (SDGs), efforts toward a sustainable society, including the growing use of sustainable energy and the promotion of health in an aging society, are accelerating around the world.
Seeing this as a business opportunity, we aim to achieve sustainable growth as a company and at the same time contribute to the achievement of the SDGs by providing solutions to various social issues using the technologies we have cultivated.
Promotion of CSR Management
SMK is promoting Corporate Social Responsibility (CSR) from a range of angles in our business activities around the world.
We aim to be a company that contributes to society and is needed by society, based on the "SMK Philosophy" and "SMK Group Charter for Corporate Behavior". In order to comply with these philosophy and charter, we have established the "SMK Action Guidelines" and "SMK Group Code of Conduct" as the basic standards of behavior to be practiced by all SMK employees, and each employee is committed to "Personal Social Responsibility" (PSR) and CSR.
Strengthening of environmental management
Many countries and regions around the world have made a commitment to go carbon neutral by 2050.
SMK will strongly promote efforts to achieve carbon neutrality through both the development of new energy-saving products and the reduction of greenhouse gas emissions in our business activities.
We will also work harder than ever to reduce plastics use, make more effective use of resources, and develop eco-friendly products.
Under our vision of "CREATIVE CONNECTIVITY -Challenge, Creativity, Solutions," we intend to move forward as a company that creates new values and contributes to society.