Message from the Management
Breaking out of our shell to take on new challenges!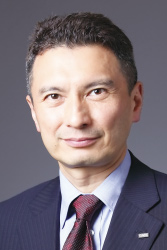 Yasumitsu Ikeda
President, Chief Executive Officer
and Chief Operating Officer

The declaration of withdrawal by the United States from the Paris Agreement had a great impact on the world. However, many other treaty-signing countries are making full-scale negotiations on the creation of rules for operation without losing sight of the importance of countermeasures against climate change. This year (2018) is the negotiation deadline, the milestone year for the implementation of the Paris Agreement. In Japan, the proposal of the long-term energy strategy for 2050 was summarized. Renewable energy as a main power source, strengthening of efforts aimed at realizing a "hydrogen society," etc. were included as strategies in the New Basic Energy plan decided by the Cabinet at the beginning of this month. However, from the current situation in which more than 80% of Japan's energy comes from thermal power generation, the path to achieve the energy mix target value of 2030 has not yet been seen. I believe that our technology development has the potential to create great business opportunities in this field.
Innovative technologies such as IoT and AI (Artificial Intelligence) have brought about major changes in society and the economy. This trend will accelerate further. In addition, the share economy promotes effective utilization of resources, so it is a favorable move in terms of the environment. These have a lot of possibilities to lead to problem solving for global problems such as global warming and resource depletion.
In order to realize sustainable growth, we must change ourselves amid this intense change of our business environment. Today's common sense is based on past experience. There is no guarantee for the future. We must improve the power of our imagination to create common sense for the new era.
Each company has its own vision and has various problems amid this social change. New demand can be found in the solutions to those problems. And I believe that many innovations ahead will newly contribute to environmental conservation.
The SMK Group holds up the banner of "Challenge Creativity Solutions" as a vision for our Mid-term Business Strategy. We aim to become a solution company that challenges to change.
Mankind has experienced several industrial revolutions and has sacrificed abundant nature while gaining a rich life. The modern age is said to be the fourth industrial revolution. This revolution, which the world greeted with coordinating vectors and facing global environmental problems, is beneficial for people who live on this planet as well as for people living in the future. Thinking it through, I believe that SMK's challenge is to, with absolutely certainty, pass on this beautiful planet to the next generation.

July 2018