Environmental Preservation Activity Reports
Effective Utilization of Resources
Donation of school chairs made from used wooden pallets
We have been donating school chairs produced within our company from used wooden pallets to local elementary schools. In 2018, we visited two elementary schools and donated 50 school chairs as well as three sets of waste bins and dustpans made from empty cans to each school.
The school chairs had a table attached on the right side normally, but we were concerned that it might be difficult for left-handed students to sit in this position for long periods of time while writing, leading to back problems.
So, this time we also produced eight chairs with the table attached on the left side.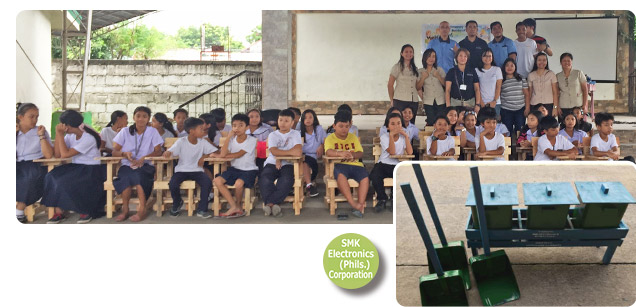 Donation of used fluorescent lights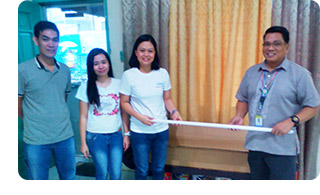 As we progressed with the shift to LED lighting at our factories in the Philippines, we had many fluorescent lights left over that could still be used. So, in June 2018 we donated 50 used fluorescent lights to a local primary school through a project run by elementary school students' parents and guardians aiming to establish an improved learning environment for their children.
Prior to this, the elementary school classrooms and hallways were dimly-lit spaces lacking sufficient lighting. We were able to assist in giving these children a better school life.
Donation of Waste Material
Introduction of Environmental Conservation Activities and Hands-on Manufacturing Experience
In August 2018, jointly with the Shinagawa Ward Environmental Information Activity Center, we held Introduction of Environmental Conservation Activities and Hands-on Manufacturing Experience.
This program, which is held every summer, teaches children the importance of environmental conservation and the fun of hands-on manufacturing. This time, 20 local primary school children and their families participated.


Environmental Communication
Factory tour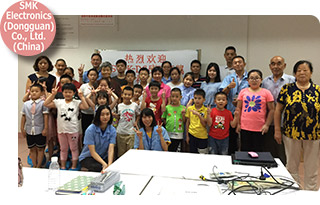 In August 2018, we conducted a factory tour for the families of our employees, and 20 children participated. We gave them a guided tour of our environmentally friendly manufacturing site and introduced our environmental conservation activities.
Environmental EXPO 2018
In October 2018, the Environmental EXPO 2018 was hosted by the government of Baja California, with over 15,000 people in participants. Twenty-five SMK Mexico employees participated and gave a presentation and workshop about reducing plastic waste.


SMK Summer Camp
In July 2018 we held a summer camp for families of employees, with 60 children participating. During this fun program of events, we conducted time to consider the importance of the global environment.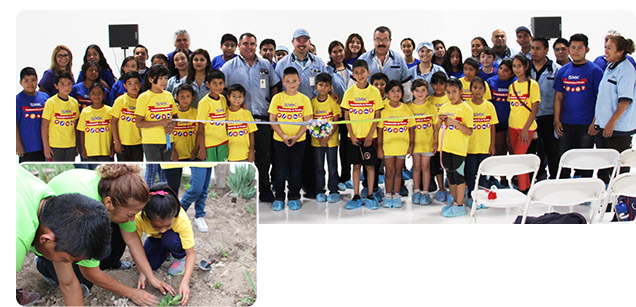 Cleanup activities
Flower Planting Activity (Shinagawa Ward, Tokyo, Japan)
As a member of the Shinagawa CSR Promotion Association, SMK participated in the Shinagawa Hanakaido flower planting project.
A project managed by an NPO, Shinagawa Hanakaido nurtures rape blossoms and Mexican asters which grow along a 2 kilometer stretch of the Katsushima Canal dyke, which makes the area rich in nature and contributes to the creation of a society which is in harmony with nature.


Cleanup activities
SMK Group is actively engaged in community cleanup activities.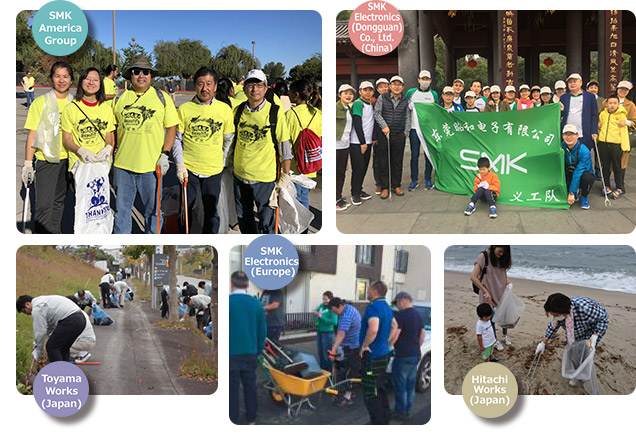 Water conservation
SMK group companies recognize as" Water also one of our important resources" , and are promoting activities such as regular inspections of water leaks in water supply facilities, reuse of factory drainage, and educational activities for water conservation. At the same time, we share the beneficial activities of each works within the group and raise the level of our activity.
Start in-plant production of drinking water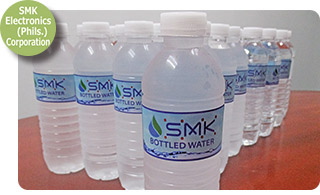 In order to provide safe drinking water for our employees, we have introduced equipment for purifying tap water and treating it with UV light. The water we produce in this way has been certified as hygienic for public consumption, and we carry out water quality inspections regularly.