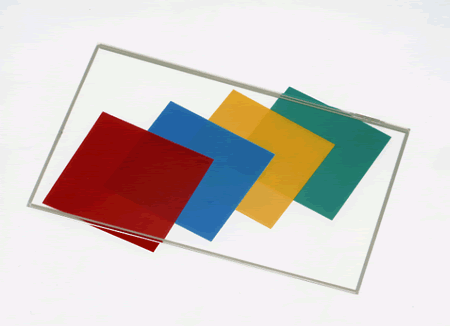 High-Definition LCD-Applicable Resistance Sensitive Touch Panel Developed
We are pleased to announce the development of a high-definition LCD-applicable resistance sensitive touch panel, specifics of which are outlined below. This touch panel is our response to the market's strong requirements and is an ideal solution when use of a high-definition LCD is planned.

In recent years, in association with the progress of PC performance, opportunities for viewing TV programs, movies, or images taken with digital cameras on a PC screen are increasingly frequent, and LCD panels are fast becoming more and more definitive (note 1).

Combination of a conventional film/glass type resistance sensitive touch panel and a high-definition LCD panel will develop a significant "sense of glare" (note 2), which used to be least conspicuous, causing something like a flicker with viewers' eyes and substantial degradation of viewability resulting.

This high-definition LCD-applicable resistance sensitive touch panel has a smoother touching surface than before by making the filler to be contained in the coating agent smaller than before. Furthermore, adjustment of the amount of the filler to an appropriate level allows realization of a touch panel without affecting the previously available Haze value (a function which prevents background reflection on the screen) free of a sense of glare.

(Note 1) Unlike the XGA resolution, where the pitch of pixels of LCDs was about 0.24 mm/dot, which was a mainstream with notebook PCs up until several years ago, high definition technologies such as WXGA and SXGA, where the previous LCD sizes remain the same, have gained their greater market presence with the pixel pitch being smaller than 0.20 mm/dot.

(Note 2) It is a common practice to provide panel surfaces with an "anti-glare" finish to prevent reflection of the background. This finish comprises solidification of particles called fillers using a coating agent and formation of several-micron-deep irregularities on the LCD panel surface. On the high-definition LCD panel surfaces, the fineness of the light rays emitted from the LCD causes diffuse reflection of the rays due to surface irregularities and then glare.

Date Released
July 13, 2006
Press Release No.
752tp
Product Name
High-definition LCD-applicable resistance sensitive touch panel
Features

1) Excellent glare-free viewability even when used in combination with a high-definition LCD panels (with pixels smaller than 0.2 mm) .
2) Prevents background reflection due to an anti-glare finished touch panel surface.
3) Applicable on various sizes.
4) Prices carried over from previous products.
Major Specifications
Transparency
77% min.
Haze Value
12%, typical
Applications
PCs, portable information terminals, PDAs, etc.
Production capacity
30,000 units/month (when converted into an 8 inch size)
Sample Price
Prices will be quoted upon request with required performance specifications. No standard products are available, and so there are no standard prices, either.
Inquiry
* Please contact TP Division for further information
Fax : 81-3-3785-2904