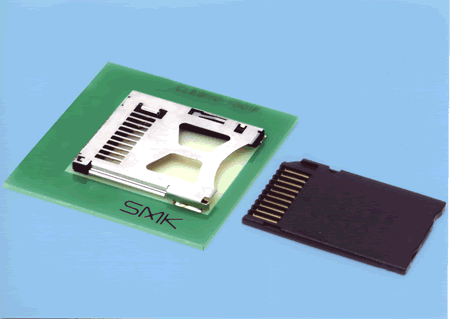 Expansion of product repertoire of small memory card connectors
Memory Stick Duo™ Connector Marketed
We are pleased to announce expansion of our repertoire of small memory card connectors to include a Memory Stick Duo™ connector which is a new development and has just been put on the market. For the particulars of this connector, please refer to the description outlined below.

Memory Stick Duo™ is expected to earn greater demands as DSCs, mobile phones and information data terminals become more functional and further rapid market penetration takes place.

This new connector provides a half-locking mechanism for the slider to prevent fly-out of cards when removal of a card is attempted and forced removal of a card while engaged will also be prevented. For the fly-out prevention, our exclusive card fly-out deterring mechanism is employed for enhanced effectiveness. With a mechanism prohibiting card insertion in an opposite direction, which is our exclusive development, damage to cards if oppositely inserted will be least likely. Some other mechanisms better safeguard data on cards and enhanced safety is ensured.

Card insertion/disinsertion is supported by a sure clicking sensation due to employment of a better operable push (lock) / push (eject) design.

Development of various memory card connector types will be ongoing with us, including this connector, for marketing activities in the fields of small portable equipment such as mobile phones, portable information terminals and PC peripherals.

Note: Memory Stick DuoTM is a Sony Corp.'s trade mark.
Date Released
Sep. 5, 2006
Press Release No.
756cs
Product Name

Memory Stick Duo™ Connector
Product No.
CLE9110-1301F
Features

1) A 2.2 mm profile when mounted.
2) Contacts of a reverse type (lower contact).
3) SMT (surface mounting) designed.
4) Of a push (lock) / push (eject) card insertion/disinsertion system.
5) A half-locking mechanism for prevention of card fly-out and forced disinsertion.
6) Protective of card insertion in an opposite direction.
7) RoHS Directive compliant.
Major specifications
Voltage and Current Rating
0.6A, 125V AC
Contact Resistance
40mΩ max.
Insulation Resistance
1000MΩ min.
Withstanding Voltage
500V AC for one minute
Operating Life
12,000 cycles
Applications
Mobile phones, DSCs, portable information terminals, etc.
Market introduction
September 2006
Production capacity
500,000 units/month
Inquiry
* Please contact CS Division for further information
Fax : 81-3-3785-2904