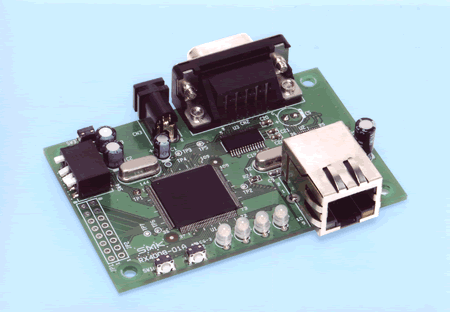 Internet connection module
We are pleased to announce the development of an Internet connection module for market introduction in the spring of 2007. Particulars of this module are outlined below.

Needs for networking possibilities of various equipment has risen in recent years as the Internet and broadband services win further popularity.

To meet such needs, we developed this module which converts equipment featuring a serial port into Ethernet for easy networking possibilities.

This product is a communication module, designed to be built in equipment, which provides a serial-Ethernet conversion function.

The use of this module allows equipment, if a serial port is featured, to be easily connected to the Internet for networking possibilities. With a server function and a client function, this module can automatically convert interfaces and communication protocol. Ease in networking of equipment making use of their basic functions is a reality with this communication module.
Date Released
Sep. 20, 2006
Press Release No.
759rd
Product Name
Internet connection module
Features

1) IP addressed can be automatically acquired.
2) A serial - Ethernet conversion function is provided.
3) A TCP/IP protocol stack is built in.
4) RoHS Directive compliant.
Major specifications
Applicable Protocols
ARP, IP, ICMP, UDP, TCP, DHCP Client and HTTP Server
Network Interface
Ethernet 10Base-T/100Base-TX
Serial
TS-232C
Supply Voltage
5V DC
Applications
Equipment featuring various serial ports
Market introduction
Spring 2007
Inquiry
* Please contact R&D Center for further information
Fax : 81-3-3785-2804