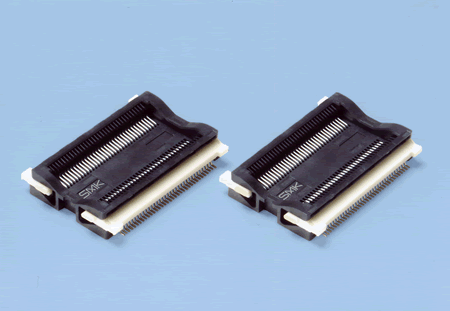 IC socket (70 poles) for SSOP employing a locking system through the use of our exclusive sliding lever
We are pleased to announce the development and the commencement of marketing of an IC socket (70 poles) for SSOP, for game machines and amusement equipment such as PACHINKO and PACHISURO. Specifics of this product are outlined below.

This product is a 0.8 mm-spacing 70-pole IC socket for SSOP, or a high density mountable IC package, typically used for internal mounting in the game machine market.

The employment of a locking system (patent pending) through the use of a sliding lever exclusive to us has made one-piece sockets a reality for reduction of manpower for IC mounting or elevated productivity. The provision of the sliding lever structure ensures better IC contact, relieves PWBs from application of load during insertion and extraction of ICs, and improves reliability of soldering.

ICs can be inserted or extracted very easily with a low operation force if a dedicated tool is used.

Note) SSOP: Shrink Small Outline Package
Date Released
Sep. 21, 2006
Press Release No.
760cs
Product Name

IC socket for SSOP (70 poles)
Drawing Nos.
CLC9070-0301F
Features

1) A 0.8 mm-spacing SMD-designed one-piece type socket intended for 70-pole SSOP ICs.
2) Employment of a locking system (patent pending) through the use of a sliding lever.
3) Ease of insertion and extraction of ICs by using an exclusive lever operation.
4) Provision of a dedicated tool for IC insertion and extraction.
5) Automatic mountable.
6) RoHS Directive compliant.
Major specifications
Voltage and Current Rating
0.5A max., 100V AC
Contact Resistance
Initially 30m Ω max.
Insulation Resistance
500M Ω min. at 250V DC
Withstanding Voltage
800V AC for one minute
Operating Temperature Range
-25°C to +85°C
Applications
PACHINKO, PACHIRURO and amusement machines, data communication equipment, measuring apparatuses, etc.
Market introduction
Sept. 2006
Production capacity
300,000 units/month
Inquiry
* Please contact CS Division for further information :
Fax : 81-3-3785-2904