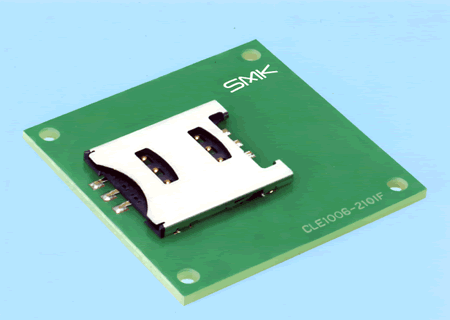 6P SIM card connector (low profile type)
Industry's lowest ever 1.55 mm short when mounted,
with a card guiding plate
We are pleased to announce the development of a 6P SIM card connector (low profile type) with a card guiding plate, for market introduction in January, 2007. Specifics of this connector are outlined below.
This new product is a SIM card connector intended for use in mobile phones of the GSM system, which is a European unified standard for digital mobile phones.
This connector stands only 1.55 mm above the PWB surface when mounted, which is the lowest in the industry. The PWB occupation area of this connector is smaller by about 6% than our previous equivalents, which will contribute to mobile phones being even thinner and smaller.
The card guiding plate, being a top surface full-hold type as well as the sides, provides high contact reliability. The provision of a card stopper will enable determination of the card position by the connector position.
This product can also be used for USIM (UIM) cards. For added convenience for our customers, we will augment our global marketing activities and try to meet our customers' unique requirements by providing customized products.

Note:SIM: Subscriber Identity Module
USIM: Universal Subscriber Identity Module
UIM: User Identity Module
GSM: Global System for Mobile Communications

Date Released
Jan. 23, 2007
Press Release No.
773cs
Product Name

6P SIM card connector(low profile)
Product No.
CLE1006-2101F
Features

1) Compliant with a European unified GSM11.11 standard for digital mobile phones.
2) 6P design and SMT-ready.
3) With a card guiding plate incorporated, yet only 1.55 mm above the surface when mounted.
4) High contact reliability due to the employment of the top surface full-hold type for the card guiding plate.
5) With a stopper which can determine the card position.
6) Enhanced strength due to the one-piece mold structure of the contacts and housing.
7) Automatically mountable due to the sucking space provided.
8) RoHS Directive compliant.
Major specifications
Voltage Rating
12V AC/DC
Contact Resistance
60m Ω max.
Insulation Resistance
1,000M Ω min.
Withstanding Voltage
540V AC for one minute
Operating Life
10,000 cycles
Operating Temperature Range
-25°C to +70°C
Applications
Mobile phones
Market introduction
Jan. 2007
Production capacity
700,000 units/month
Inquiry
* Please contact CS Division for further information :
Fax : 81-3-3785-2904