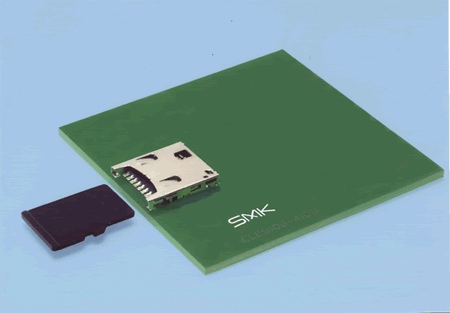 MicroSD™ card connector of world's smallest class
We are pleased to announce the development for market introduction this February of a microSD™ card connector for microSD™ (TransFlash™) cards that are attracting the industry's attention for being an ultra small memory card. Specifics of this connector are outlined below.
Dimensions of 1.65 mm high when mounted, 12.9 mm deep and 11.4 mm wide, an industry's smallest class, are a result of one-piece molded contacts and housing and unique shield cover design. Such dimensions effectively bring out the advantage in size of the ultra small microSD™ and contribute to thinner and smaller equipment design, including for mobile phones. (a 78% reduction in volume from our previous miniSD™ card connector)
Card insertion/removal depends on a sliding (manual) system with a normal type insertion direction). Employed with the card sensing switch is a sensing system which senses a card in a backward direction, making the structure non-susceptible to card dimensions. And, a half-locking mechanism is provided to positively hold cards and prevent them from flying out. Its shield cover employs a mechanism that augments shielding performance and connector strength.
The development of this product, together with a push (locking)/push (ejecting) type which has been on the market, optimizes our product repertoire. For further optimization of our connector repertoire, we will add more connectors applicable to various types of small memory cards.
Note: microSD™ , miniSD™ : Trademarks of SD Card Association
transFlash™ : A trademark of SanDisk Corporation of the USA

Date Released
Jan. 31, 2007
Press Release No.
774cs
Product Name

MicroSD™ card connector(low profile)
Product No.
CLE9108-4101F
Features

1) As low in profile and small as 1.65 mm high when mounted, 12.9 mm deep and 11.4 mm wide.
2) Manual sliding system for insertion/removal of a card.
3) With a card sensing switch.
4) Normal card insertion direction type.
5) A half-locking mechanism featured (non-half-locking type also available).
6) SMT-ready design.
7) A sucking space provided for convenience in automatic insertion.
8) TransFlash™ cards compatible.
9) RoHS Directive compliant.
Major specifications
Voltage and Current Rating
0.5A, 5V AC/DC
Contact Resistance
100m Ω max.
Insulation Resistance
1,000M Ω min.
Withstanding Voltage
500V AC for one minute
Operating Life
10,000 cycles
Applications
Mobile phones, DSCs, etc.
Market introduction
Feb. 2007
Production capacity
1,000,000 units/month
Inquiry
* Please contact CS Division for further information :
Fax : 81-3-3785-2904