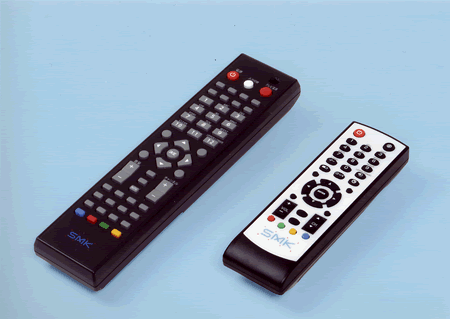 Two Models of Standard Rubber Key Remote Controls Developed
We are pleased to announce the development and commencement of production of two models of standard rubber key remote controls, a 55-key type and a 36-key type. Their particulars are outlined below. We have had our SSR series products on the market for some time and have earned customers' favorable acceptance due to the products' operation feeling better than membrane type products. These new products are addition to this SSR series of products.
Recent market penetration of terrestrial digital broadcasting has made home use data broadcasting-ready AV equipment (such as flat TVs, DVD players/recorders, and set-top boxes) popularize more significantly. As a consequence, demands for remote controls which meet such functional requirements are rising.
Our development of these standard SSR-55 and SSR-36 remote controls is our response to such market requirements.
The key layout of these new products is most optimally designed to best accommodate the 4 color keys of "blue, red, green and yellow" which serve as one-touch keys to be used when data broadcasting is received via terrestrial digital broadcasting.
In addition, adoption of easy-to-press rubber keys ensures good operation feeling.

We will continue efforts for active development of products and provision of new products for the home-use AV equipment market.

Date Released
Feb. 08, 2007
Press Release No.
775fc
Product Name
Standard rubber key remote controls, SSR-55 and SSR-36
Features

1) Optimal key layout of 4 key colors of 'blue, red, green and yellow' which serve as one- touch keys when data broadcasting via terrestrial digital broadcasting is received.
2) Provision of easy-to-press and good feeling rubber keys.
3) RoHS Directive compliant.

Major Specifications
Number of Keys
55 with SSR-55
36 with SSR-36
Supply Voltage

3V DC

External Dimensions
210 (W)x 50 (D)x 25.2 (H)mm with SSE-55
144.5 (W)x 44 (D)x 26.4 (H)mm with SSE-36
Applications
Flat TVs, DVD players/recorders, and set-top boxes
Production capacity
500,000 units/month
Inquiry
* Please contact FC Division for further information :
Fax : 81-3-3788-7166