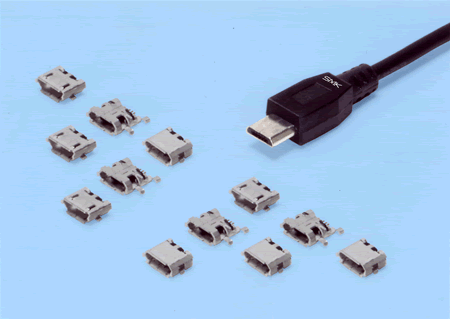 Type B Micro-USB Connector Developed
We are pleased to announce the development of a USB specification-compliant type B Micro-USB connector for commencement of marketing in the near future. Its specifics are outlined below. Prior to commencement of development work of this connector, we joined the USB Implementers Forum to help expedite establishment of specifications. Addition of the Micro-USB specifications to the USB specifications was thus materialized, leading to market introduction to this connector at this time.

A reduction in volume by 60% from our previous USB Mini-B connector has been realized with this new product. Considered to be most suitable for applications for high speed transfer of USB2.0 Hi Speed (480M bps) and charging functions, this is an optimal choice for connection of small devices such as mobile phones, digital cameras, PDAs, and portable music players. Operating life of receptacles and plugs extend to as many as 10,000 cycles.

Receptacles are available in 3 types of normal, reverse and mid-mounted designs. Optimization of our product repertoire is our firm direction.
Date Released
March 14, 2007
Press Release No.
779cs
Product Name
Type B Micro-USB Connector
Features

1) Compliant with USB requirements (USB2.0 Hi Speed).
2) Variety of receptacle designs such as normal, reverse and mid-mounted types.
3) RoHS Directive compliant.
Major specifications
Voltage and Current Rating
1.8A(power)or1.0A(signal), 30V rms AC
Contact Resistance
30m Ω max.
Insertion Force
35N max.
Removal Force
8N min.
Operating Life
10,000 cycles
Applications
Small devices such as mobile phones, digital cameras, PDAs and portable music players.
Market introduction
May, 2007
Inquiry
* Please contact CS Division for further information :
Fax : 81-3-3785-2904