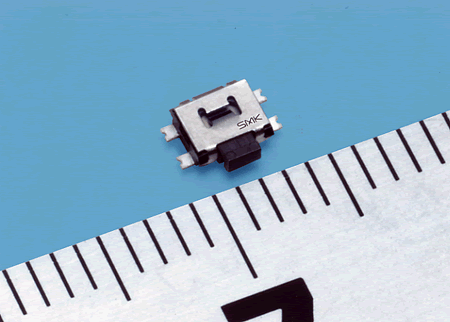 Thin horizontal MT switch developed
We are pleased to announce the development and commencement of sample shipments of a thin horizontal MT switch, an advanced model of our previous small horizontal MT switch of a tactile design. Specifics of this switch are outlined below.

In recent years, components of even smaller and thinner design are demanded as further downsizing of digital cameras and mobile phones has gone on.

The development of this thin horizontal MT switch is an embodiment of our efforts to better serve the market.

The height of this new product is 1.1 mm (84% of our previous equivalent product), the industry's shortest class, due to the employment of a metal dome of the industry's smallest class and to the improved technology for molding thin products. This will be an excellent choice for smaller and thinner equipment design possibilities.

We will continue development and provision of new products especially for the information-related equipment application market.
Date Released
Mar. 20, 2007
Press Release No.
780fc
Product Name
Thin horizontal MT switch
Features

1) Only 1.1 mm high (84% of our previous equivalents) for ever smaller and thinner equipment design.
2) Ready for lead-free reflow soldering.
Major Specifications
Rating
20mA, 12V DC
Operation Force
1.5N ± 0.6N
Stroke
0.2 mm ± 0.15 mm
External Dimensions
3.3mm(W) X 2.8mm(D) X 1.1mm(H)
Applications
Mobile phones, digital cameras, digital portable audio devices, etc.
Sample Shipment
Mar. 2007
Market introduction
July 2007
Production capacity
1,000,000 units/month in July 2007
2,000,000 units/month in October 2007
Inquiry
* Please contact FC Division for further information :
Fax : 81-3-3788-7166