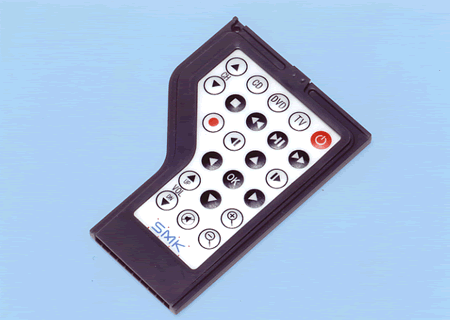 Remote control for ExpressCard slot developed
We are pleased to announce the development and commencement of shipment of samples of a 23-key card size remote control, an ExpressCard remote control, which can be stored in an ExpressCard (Note 1) slot. Provision of an ExpressCard facility is expected to be a widely seen scene on note book-sized computers. Specifics of this remote control are outlined below.

近In recent years, use of PCs has expanded to cover watching TV programs or DVD movies, or listening to music, as the AV performance of PCs improved, and demand for remote controls for such pleasure has become greater. Since notebook PCs are often carried along, remote controls for them are required to be more portable and durable.

Our development of this ExpressCard remote control being discussed here is to meet such market demand.

This new product is designed for storage in the ExpressCard slot of notebook PCs for excellent portability with a PC. Also, with heat resistance meeting automobile level, many situations will be found suitable for this product.

Continued development efforts and provision of new products for the PC peripheral market are our commitment to better serve the market.

(Note 1)A specification for an advanced card for notebook PCs, defined in Sept. 2003 by PCMCIA, an American industry organization established in June 1989 by more than 500 computer-related enterprises. There are 2 types of ExpressCard of 75 mm long, 5 mm thick and 34 mm wide ExpressCard/34 and 54 mm wide ExpressCard/54.
Date Released
2007/03/27
Press Release No.
783fc
Product Name
ExpressCard remote control
Features

1) Can be stored in the ExpressCard slot of notebook PCs for excellent portability with PCs.
2) Sufficiently heat resistant for applicability to automotive equipment for a variety of situations.
3) RoHS Directive compliant.
Major Specifications
Number of Keys
23
Matching Slot
ExpressCard/54
Heat Resistance
Operating temperature range:- 0°C to 60°C
Storage temperature range:- 20°C to 85°C
Supply Voltage
2.2V to 3.3V DC
External Dimensions
54mm(W) X 75mm(D) X 4.85mm(H)
Applications
Notebook-sized PCs and equipment with an ExpressCard slot
Sample Shipment
Mar. 2007
Market Introduction
June 2007
Production capacity
500,000 units/month in July 2007
Inquiry
* Please contact FC Division for further information :
Fax : 81-3-3788-7166