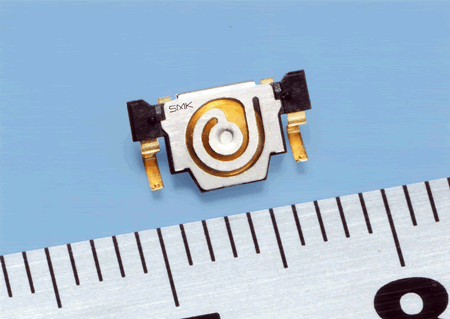 Small and thin 1-dome switch developed
We are pleased to announce the development, and the commencement of shipment of samples, of a 1-dome switch created based on the 2-dome switch that has been on the market since some time ago, with its functions improved and the number of keys changed to one. Specifics of this switch are outlined below.

In recent years, requirements for electronic components have been loudly voiced for smaller and thinner makes to enable downsized equipment design, as well as featuring higher reliability for unforeseen accidents (such as those ESD-related) and facilitation of easier equipment designing. Not only those but environmental considerateness even to mounting methods is also required.

The development of this 1-dome switch is our response to such market requirements.
Date Released
June 21, 2007
Press Release No.
787fc
Product Name
1-dome switch
Features

1) The point of functional improvement over the previous product (the 2-dome switch) is that this new development is only 4.5 mm high (84% of our previous equivalent product) by optimization of the housing configuration for downsized equipment design.
2) The previous equivalent product was as thin as 0.9 mm made possible by the use of our exclusive key top-free structure. With such the 0.9 mm maintained, this switch has a cover, which is not present with the previous product, laid over the metal dome for improved anti-ESD performance and reliability of equipment.
3) The cover is located so that the switch key area to be pressed will be enlarged to a substantial extent (400% the area of our previous product), for flexibility in equipment designing.
4) Mounting strength is increased due to the employment of the spring contact system whereby this switch, which is fixed on the housing, can be press-mounted on a PWB.
5) Solder-free mounting on equipment is environment protective when the switch is recycled.
Major specifications
Rating
10mA, 12V DC
Operation Force
1.7N ± 0.6N
Operation Stroke
0.18mm ± 0.05mm
External Dimensions
8mm(W) X 0.9mm(D) X 4.5mm(H)
Applications
Mobile phones, PDAs, digital portable audio equipment, etc.
Sample Shipment
June, 2007
Production
Aug, 2007
Production capacity
1,000,000 units/month in Aug, 2007
Inquiry
* Please contact FC Division for further information :
Fax : 81-3-3788-7166