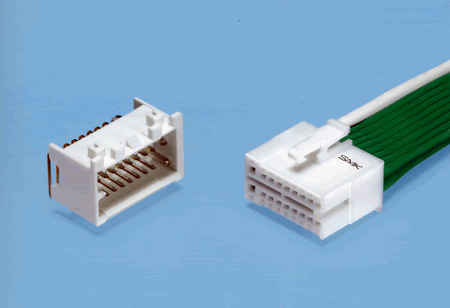 18P back panel connector for car audio applications
of mounting area the same as 16P product marketed
We are pleased to announce the development and the commencement of marketing activities for an 18P back panel connector, specifics of which are outlined below.

It has been the market trend in recent years for connectors for car audio equipment to be required to be multi-poled and capable of handling large current, and small, as multi-functionality has proceeded with such equipment. The introduction of this 18P product is our answer to such market requirements, in addition to the 16P product we put on the market some time ago and earned favorable acceptance for.

18 poles out of 18 poles of this new product are for signals and 2 for power. The contrived attachment layout of crimping terminals had made the size of the mounting area of our previous 16P back panel connector sufficient for the addition of 2 signal poles.

The 2 poles for supply power are capable of a 15A current and 16P for signals can handle as many as 3A. Such large-current capability makes this connector a flexible candidate for large current circuits.
Date Released
July 10, 2007
Press Release No.
790cs
Product Name
18P back panel connector
Drawing Nos.
CSS3018-2901F  (Socket with a cable)
CSC5018-5201F  (plug)
Features

1) Multiple 18 polesn design with 16 polesfor signals and 2 poles for power.
2) Small enough to be mountable in the same size area of our 16P back panel connector.
3) Large 15A capacity for 2 power poles and 3A for 16 signal poles.
4) Our exclusive contact structure for large current capability for power circuits.
5) Full locking mechanism for mating of the socket and the plug.
6) Easy insertion/removal of the plug due to a contact structure needing low force.
7) RoHS Directive compliant.
Major specifications
Voltage and Current Rating
15A, 16V DC(power section)
3A, 16V DC(signal section)
Contact Resistance
20m Ω max.
Insulation Resistance
100M Ω min. at 500V DC
Withstanding Voltage
500V AC for one minute
Operating Temperature Range
-40 °C to + 85 °C
Operating Life
30 cycles
Applications
Car audio equipment, etc.
Market Introduction
July, 2007
Production capacity
200,000 units/month(plugs and sockets)
Inquiry
* Please contact CS Division for further information :
Fax : 81-3-3785-0517