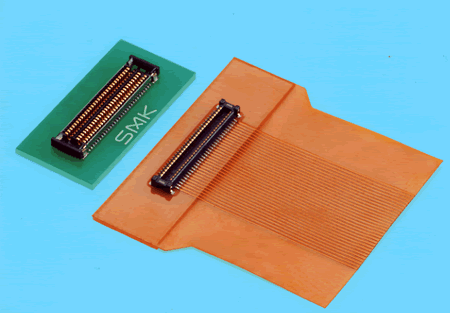 High speed signal transmission capable
and EMI resistant shielded socket for the PB-4B series
0.4 mm-spacing board-to-board connectors
We are pleased to announce that we have developed and put on the market a shielded version of the socket for the PB-4B series 0.4 mm-spacing board-to-board connector which has been well accepted since its market introduction some time ago.

Signal transmission speed has become faster as image quality and performance of portable equipment such as mobile phones and DSCs improve. Accordingly, connectors for the interior (LCD panels) are required to be capable of high speed signal transmission.

This new product is socket metal-shielded to meet such market requirements. The connector is surrounded with metal to form a shielded structure, making the connector capable of fast signal transmission and resistant to EMI, to realize a higher level of LCD panel image quality and equipment performance. Specifics of this socket are outlined below.

The numbers of poles available now are 26, 30 and 60, with one-by-one increase planned.
Date Released
Jan. 10, 2008
Press Release No.
804cs
Product Name
Socket with a shielding provision for the PB-4B series 0.4 mm-spacing board-to-board connector
Drawing Nos.
CPB63XX-0202F
(Plug which is previously available: CPB64XX-0101F)
Features

1) Ensured characteristic impedance, resistance to EMI and capability of high speed signal transmission, due to its shielding provision.
2) 3.7 mm wide and 1.2 mm low in profile when mated.
3) Sufficient joint margin for improved contact reliability, despite the low profile design.
4) Added joint strength and better clicking sensation during insertion and removal due to the locking mechanism of the hold-down (reinforcement hardware).
5) Absorbent of a ±0.4 mm misalignment between a plug and a socket when mated.
6) Supplied on automatic-mounting ready embossed tape.
7) RoHS Directive compliant.
Major specifications
Voltage and Current Rating
0.3A, 50V AC/DC
Contact Resistance
Initially 30mΩmax.
Characteristic Impedance
100 ± 10Ω (2GHz)
Insulation Resistance
100MΩmin. at 100V DC
Withstanding Voltage
100 V AV for one minuite
Operating Temperature Range
-40°C to +85°C
Applications
Portable equipment including mobile phones and DSCs.
Market Introduction
Jan. 2008
Production capacity
1,000,000 units/month
Inquiry
* For more information, please contact the CS Division:
Fax : 81-3-3785-0517