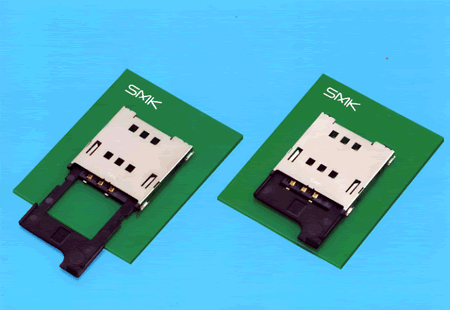 6P (poles) SIM card connector (tray type)
superbly operable due to our exclusive tray type ejection system developed and marketed
We are pleased to announce the development and the commencement of marketing of a 6P (poles) SIM card connector (tray type), specifics of which are outlined below.

Used in mobile phones of the GSM system, a European standard for digital mobile phones, in which market demands for SIM card connectors are further increasing.

The employment of our exclusive tray type ejection system for card insertion and removal has made a card ejection distance of 9.5 mm available. It is superbly operable despite its simpler and smaller structure compared to push/push type products.

Another advantage is that this product can be reflow-mounted with the tray incorporated in the connector section. Conventional operation for assembly after mounting is no longer necessary and reduction in man-minutes will result.

Its profile after mounting is the industry's lowest at 1.75 mm making it a choice for smaller and thinner mobile phone design. It can be used also for USIM (UIM) cards.

Note: * SIM: Subscriber Identity Module
*USIM: Universal Subscriber Identity Module
*UIM: User Identity Module
*GSM: Global System for Mobile Communications
Date Released
Feb. 6, 2008
Press Release No.
807cs
Product Name
6P (poles) SIM card connector (tray type)
Drawing No.
CLE1006-2801F
Features

1) Meets the GSM11.11 European standard specifications for digital mobile phones.
2) 6-pole design and ready for SMT.
3) Tray type card ejection system for card insertion and removal, with an ensured card ejection distance of 9.5 mm.
4) Reflow processable with the tray incorporated.
5) 1.75 mm high when mounted.
6) Top-surface full-holding type card guiding plate for ensured high level contact reliability.
7) One-piece molded contact and housing for increased strength.
8) Automatically mountable due to the sucking space provided.
9) RoHS Directive compliant.
Major specifications
Voltage Rating
30V AC/DC
Contact Resistance
30mΩmax.
Insulation Resistance
1000MΩmin.
Withstanding Voltage
500V AC for one minute
Operating Temperature Range
-20°C to +65°C
Operating Life
5,000 cycles
Applications
Mobile phones
Market Introduction
Feb. 2008
Production capacity
500,000 units/month
Inquiry
* For more information, please contact the CS Division:
Fax : 81-3-3785-0517