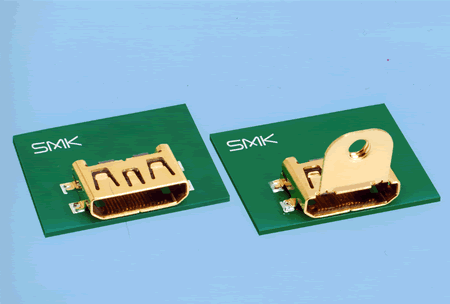 HDMI standard type C specification compliant
Receptacle developed and marketed
We are pleased to announce that we have developed and commenced marketing of an HDMI standard type C receptacle which is compliant with the HDMI standard type C specifications. Specifics of this new connector are given below.

It has been noted in recent years that images and quality of small AV equipment such as DVCs and DSCs have improved. In connection with such improvements, demand has increased for connectors for external connection capable of 1080p transmission.

The connector we are now discussing is a connector compliant with the HDMI standard type C specifications, which are established for small AV equipment of the HDMI standard type C. This HDMI standard is capable of fast transmission of digital image, sound and control signals with one single cable. Matching 100Ω differential impedance and being capable of fast transmission, it is an optimal choice for external connection of small AV equipment.

Its depth of only 6.9 mm helps save a mounting area on PWB.

Notes) HDMI (High-Definition Multimedia Interface) is a trademark of HDMI
Licensing, LLC.
1080p: 1080 progressive
Date Released
Feb. 15, 2008
Press Release No.
809cs
Product Name
HDMI standard type C receptacle
Drawing No.
CSS5019-XRXXF
Features

1) HDMI specification compliant.
2) Matching 100Ω differential impedance and capable of fast transmission.
3) Only 6.9 mm deep for effectiveness of a mounting area on PWB.
4) Half-locking system for joining.
5) Increased strength against skewed insertion due to the screw-stopping flange provided.
6) Choice of with or without a flange, and an SMT type or DIP type for shell mounting.
7) Supply on embossed tape for automatic mountability.
8) RoHS Directive compliant.
Major specifications
Current Capacity
0.5A
Voltage Rating
40V AC(RMS)
Contact Resistance
30mΩmax.
Insulation Resistance
100MΩmin. at 500V DC
Withstanding Voltage
500 V AV for one minuite
Differential Impedance
100 Ω ± 25%
Operating Temperature Range
-40°C to +80°C
Operating Life
5,000 cycles
Applications
Small AV equipment such as DVCs and DSCs, mobile phones, etc.
Market Introduction
Feb. 2008
Inquiry
* For more information, please contact the CS Division:
Fax : 81-3-3785-0517