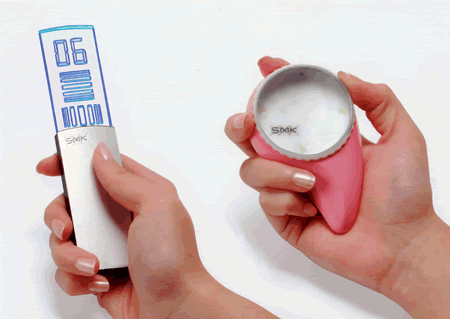 Proposal of remote controls of new concepts
We are pleased to announce that we have developed new concept remote controls based on a vision of remote controls of with futuristic design concepts. Two prototypes, a palm-held remote control and a crystal key remote control, are going to be our first introduction to the market. Specifics of these new remote controls are outlined below.

These new concept remote controls will submit themselves for provision of opportunities for consideration and materialization of what remote controls should be like in the future and not be a prisoner of the past, as well as having a superior quality human interface.

The palm-held remote control will bring forward a totally new operation sensation coming from an innovative design.

The crystal key remote control has a combined transparent and colorfully illuminated indication area and a touch type operation system, and proposes a design with a refined sense of taste.

We will continue development efforts for these "new concept remote controls" for presentation of their whole picture at our TEXPO2008 exposition due to be opened in June 2008. Development into products will follow with market reaction collected during the exposition incorporated.


Date Released
Feb. 20, 2008
Press Release No.
811fc
Product Name
New concept remote contro (FC8601T-1)
Features

1) Presents a totally new sense of operation available only from these innovative designs (common to both types).
2) Configured to fit in a palm, presents an operation feeling such as "turning" due to the use of a vernier dial (palm remote control).
3) A transparent and colorfully illuminated indication area and a touch type operation system combined, proposes a design of a refined sense of taste (crystal key remote control).
4) Small despite its multi-functionality due to the introduction of new operation methods, providing an opportunity for personalization of remote controls (both types).
Applications
LCD/plasma TVs, DVD players/recorders, air conditioners, lighting fixtures, and other household appliances
Inquiry
* For more information, please contact the FC Division:
Fax : 81-3-3788-7166