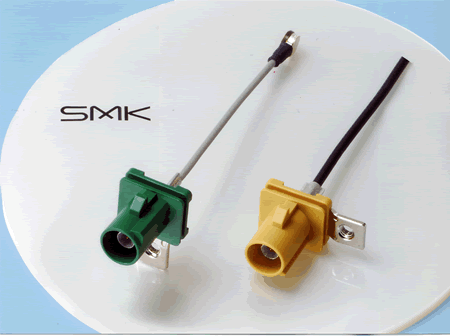 Cable plug (with a bracket) for automotive applications
SMB coaxial connector with a molded locking provision developed
We are pleased to announce the development and commencement of marketing of cable plugs (with a bracket). These are an extension of our VC series SMB coaxial connectors featuring a molded locking provision for automotive applications, which have been well accepted in the market.

The VC series connectors are of a coaxial design for automotive applications (connection of automotive equipment and an antenna) of a molded locking system with SMB (Sub Miniature type B) as the base. Its use for 50Ω applications is a standard practice with European automakers. Used also as a standard feature by American counterpart for digital radios, its market is steadily growing.

The new product is a cable plug featuring a bracket. Provision of a bracket with the connector body permits attachment of the plug section directly to equipment and enclosure chassis for easier cable laying in equipment. The bracket can be attached to the plug in any one of four directions, according to the customer's needs.

The usable coaxial cable sizes are equivalent to 0.8D (1.25 mm and 1.70 mm ODs).
Date Released
Mar. 28, 2008
Press Release No.
815cs
Product Name
Cable plug (with a bracket) of the VC series SMB connectors with a molded locking function
Drawing Nos.
CRC1001-37XXF
CRC1001-40XXF
Features

1) Ensured connection due to the push-on type molded locking system.
2) Directly mountable plug section to equipment or enclosure chassis.
3) The bracket can be attached to the plug in any one of four directions.
4) Fits 0.8D-equivalent (1.25 mm and 1.70 mm ODs) coaxial cables. 1.25 mm OD coaxial cables accept our small SMT coaxial connectors (the TC-1 and TC-2 series)
5) RoHS Directive compliant.
Major specifications
Voltage and Current Rating
1A, 250V AC
Frequency Range
DC to 3 GHz
Nominal Impedance
50Ω
V.S.W.R.
1.5 max. (DC to 3 GHz)
Operating Temperature Range
-40°C to + 90°C
Cable Connection Strength
19.6N min.
Applications
Automotive equipment (satellite radios, conventional radios, car nav. and car audio equipment, TVs, GPS products, etc.)
Market introduction
Mar. 2008
Production capacity
500,000 units/month
Inquiry
* For more information, please contact the CS Division:
Fax : 81-3-3785-0517