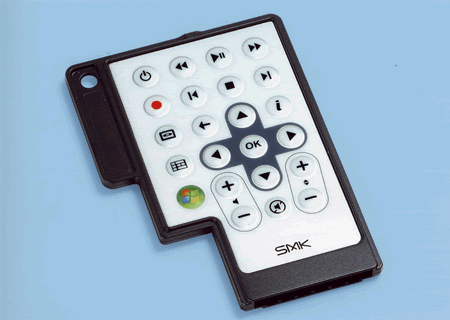 "A remote control fitting in a new-ExpressCard slot" developed
We are pleased to announce the development of a card-sized 23-key remote control. The card in this case is a new ExpressCard (Note 1)(R52N). This remote control can be accommodated in an Express slot which more and more notebook PCs feature.

Opportunities for viewing DVDs and listening to music with a PC or TV are increasing. As a consequence, demand for remote controls for use with PCs and TVs is also rising. Among such remote controls in demand, those which fit in card slots meet greater demand due to their high mobility. The ExpressCard remote control we put on the market in March 2007 has been well accepted by the market.

The "new ExpressCard remote control (R52N)" which we recently developed has a completely changed cosmetic design, and is added with a strap hole for prevention of its accidental dropping during operation. Our product line-up includes a Windows Vista version for applicability to most PC environments.

(Note 1) The standard established in Sept. 2003 by "PCMCIA", an American industry group of more than 500 companies engaged in computer-related business organized in June 1989 for expansion cards. There are two types of ExpressCards: one is "ExpressCard /34," which is 75 mm long, 5mm thick and 34mm wide; the other is "ExpressCard / 54," which is 75mm long, 5mm thick and 54mm wide.
Date Released
Mar. 31, 2008
Press Release No.
816fc
Product Name
New ExpressCard remote control (R52N)
Features

1) Can be accommodated in an ExpressCard slot of a notebook PC for greater mobility together with a PC.
2) Provision of a strap hole to prevent accidental dropping during operation.
3) Applicable in most PC environments due to our product line-up including a Windows Vista version.
Major specifications
Number of Keys
23
Accommodating slot
ExpressCard/54
Supply Voltage
3V DC from CR2016
External Dimensions
54 mm (W) x 75 mm (D) x 4.9 mm (H)
Applications
Notebook PCs and peripheral equipment featuring an ExpressCard slot
Initial Sample Shipment
Mar. 2008
Market Introduction
April 2008
Production capacity
300,000 units/month in March 2008
Inquiry
* For more information, please contact the FC Division:
Fax : 81-3-3788-7166