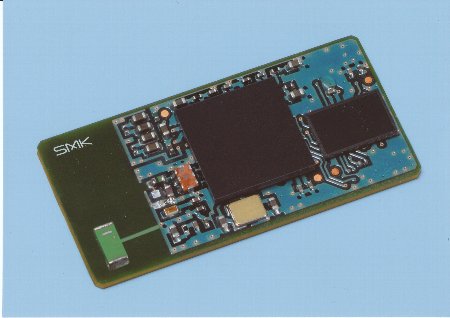 Bluetooth
®

audio module, BT505A, developed

We are pleased to announce the development and commencement of marketing of a Bluetooth® audio module, model BT505A.



It is a recent market trend that more and more mobile phones and portable digital audio players are loaded with Bluetooth®'s A2DP (advanced audio distribution profile) for wireless transmission capability of music. To meet this trend, audio equipment manufacturers focus their attention on wireless transmission of music as a new music source. Previously, not many models of audio equipment featured the Bluetooth® audio reception function, leaving end users thirsty for equipment designed for it.



The BT505A module developed at this time for audio equipment is a result of our accurate understanding of market requirements and responds to such end users' requests.



This product is a wireless module for a built-in application capable of near distance wireless transmission of a stereo audio signal from a mobile phone via Bluetooth® technology. If built in speakers or stereo equipment, an audio signal coming from mobile phones can be received and reproduced.

Note) Bluetooth® is a trade name of Bluetooth SIG, Inc. SMK uses it under license from Bluetooth SIG, Inc.
Date Released
Sept. 18, 2008
Press Release No.
833rd
Product Name

Bluetooth

®

audio module, BT505A
Drawing No.
VRBXXXX-XXXX
Features

1) A module of an SMD connection type, with an antenna.
2) Having been qualified for the BluetoothR SIG logo, this module can be used without payment by users of initial expenses for the qualification.
3) Supports the advanced audio distribution profile (A2DP).
4) Supports also the audio video remote control profile (AVRCP).
5) SBC (Sub Band CODEC) is featured.
6) RoHS Directive compliant.
7) An evaluation kit and samples are available for easy confirmation of its performance, if connected to commercially available mobile phones and portable digital players.
Major specifications
Bluetooth specifications
Version 2.0
Power Class
Class2
Applicable profiles
A2DP (Advanced Audio Distribution Profile)
AVRCP (Audio Video Remote Control Profile)
Applicable CODEC
SBC (Sub Band CODEC)
Copyright Protection
SCMS-T compatible
Supply Power
3.5V +/- 5% DC
Operating Temperature
-20 to 80°C
External Dimensions
26 mm X 13 mm X 2.5 mm
Applications

Portable audio stereo players, portable speakers, portable digital players, etc.

Sample shipment

Nov. 2008

Production

Feb. 2009

Inquiry
* For more information, please contact the Research & Development Center
Fax : 81-3-3785-2804