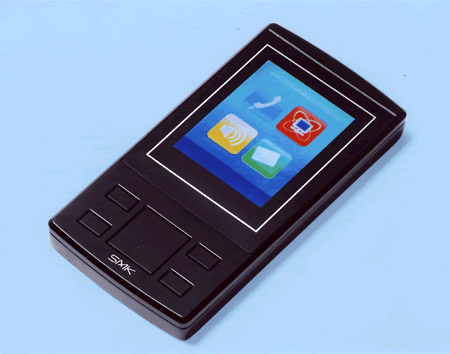 Industry's first force feedback touch panel for mobile equipment developed
We are pleased to announce the development and commencement of marketing of a "force feedback (FFB) type touch panel for mobile usability" for small portable equipment. Specifics of this touch panel are given below.
Having started production in 2004 of force feedback touch panels that provide a "button pressing sensation" when touching the screen, we have enjoyed excellent market acceptance mainly from the automotive industry.
In recent years, mobile equipments that operate by users touching the touch panel screen have rapidly won popularity especially in the mobile phone market. On another front, however, market demand remains strong for a "button pressing sensation" which many equipment users have been accustomed to.
The new product we developed at this time is optimally designed for mobile equipment applications and is a downsized version of the touch panel switch, or a "force feedback type touch panel," which has been well accepted by the market as our exclusive design providing users with a pressing sensation. Featuring both touch-on-screen inputting capability and button pressing sensation, this new product will greatly improve mobile equipment in terms of operation sensation.
Additionally, the employment of a low voltage driving circuit for 1/3 current consumption of our previous equivalent products and downsizing of the circuit will lead toward an extended period of operation time and downsizing of equipment.
Furthermore, allocation of a decorative printable sheet on the operating surface and making the surface fully flat provide resistance to dust and drips and allows for fashionable bezel-free cosmetic design.
Date Released
Oct. 27, 2008
Press Release No.
839tp
Product Name
Force feedback touch panel for mobile applications
Features

1) A variety of sensations will be felt by operators depending on the pattern of the signal applied to a touch panel.
2) The employment of a controller exclusively designed for low voltage (3V) driven FFB will help extend equipment's operation time.
3) Available sizes cover from 2.5" to 5.6".
4) Provision of resistance to dust and drips is optionally available.
Major specifications
Reading system
Resistance sensitive
Operating Force
0.1 to 1N
Driving Voltage
3.0V
Consumption Current
100mA (when vibrating)
10μA (when idle)
Applications
Mobile phones, SmartPhone, digital portable audio equipment, UMPCs, etc.
Production capacity
100,000 units (when converted into 3"products)
Inquiry
* For more information, please contact the TP Division
Fax : 81-3-3785-2904