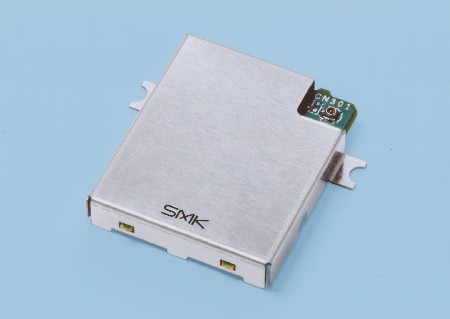 IEEE802.11b/g compatible wireless LAN module, WL101C, developed
We are pleased to announce the development of an IEEE802.11b/g-compatible wireless LAN module, WL101C, for commencement of marketing in December. Specifics of this module are given below.
Recent market penetration and expansion of wireless LAN with which networks can be easily built have been amazing.
This move is seen not only in the consumer market but also in the industrial market, and needs for wireless LANs have rapidly risen. Increase in demand is prominent with business-purpose information terminals such as order entry terminals, handheld terminals, web terminals and business use printers, above all.
Previously, stringency in requirements for sizes and consumption power has restricted employment of wireless LAN modules to a very limited number of equipment. We developed and commercialized a wireless LAN module for built-in applications in equipment to respond to the need for the possibility of provision of a wireless LAN system in business purpose information terminals.
Building wireless networks is a matter of ease with this new product if it is built into various types of information communication terminals.
Date Released
Oct. 28, 2008
Press Release No.
840tp
Product Name
IEEE802.11b/g-compatible wireless LAN module, WL101C
(Series name: WL100)
Features

1) With software and firmware being customizable, this module is an optimal choice for building in equipment. Connection to equipment is simple via connectors.
2) Being compatible with IEEE802.11b/g, the maximum communication speed is as high as 54M bps.
3) We plan to acquire qualification, in combination with an antenna, for the requirements per the Radio Law to help our customers reduce their initial costs.
4) Small lots (500 units per lot) are acceptable.
5) Evaluation kits and samples are available to allow for evaluation of suitability for intended use in equipment.
Major specifications
Operating Frequency Range
2,412~2,472MHz (ARIB STD-T66)
Wireless LAN Specification
IEEE802.11b/g
Host Interface
SDIO
Modulation System
OFDM/DSSS
Supply Voltage
3.3V DC
External Dimensions
25.5 mm X 30.5 mm X 6 mm
Applications
Order entry terminals, handheld terminals, web terminals, business use printers, machine tools, etc.
Planned commencement of sample shipment
Dec. 2008
Production
Jan. 2009
Inquiry
* For more information, please contact the RD Division
Fax : 81-3-3785-2804