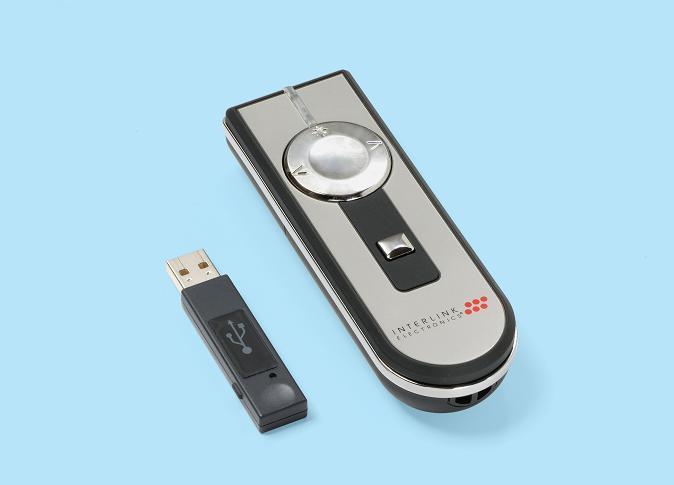 Presentation remote control, Remote Point Emerald Navigator, model VP4470, developed
We are pleased to announce the development of the Remote Point Emerald Navigator, model VP4470, featuring a green laser pointer. This is the successor to the "Remote Point" series presentation remote control, which has earned a very favorable response from the market for its simple operability and hand-fitting sensation. This new product will be put on the market in January. Specifics of this product are outlined below.
In recent years, cases where red laser pointers fail to clearly indicate points of discussion have increased especially in large presentation sites as projectors became brighter.
This product features a green laser, which is better recognizable and ten times brighter than red lasers (when compared between our products). With provision of communication capability of a 30m distance with a PC, successful presentation using slides via PowerPoint is ensured.
We plan to distribute this product primarily through the following channels:

* Via mail order houses and Internet outlets handling stationery and PC peripherals, and retail outlets such as mass merchandisers of electrical goods
Date Released
Nov. 13, 2008
Press Release No.
842fc
Product Name
Remote Point Emerald Navigator, model VP4470
Features

1) A highly recognizable green laser pointer is included.
2) "Slide Forward," "Slide Back" and "Blackout" functions of Microsoft's PowerPoint and Apple's Keynote are operable.
3) The non-directive RF communication system employed allows operation with this remote control kept directed to the screen.
4) Operation buttons are laid so that the thumb can reach every button in a stress-free manner. With a reasonable distance maintained between buttons, chances for accidentally pressing the wrong buttons are slim.
5) The use of two AA cells allows long-time operation (about eight continuous hours of use of the laser) despite use of a green laser.
6) Re-pairing of a remote control and a receiver is of no bother any longer. It is as simple as inserting a receiver into an auto RF port of the body of the remote control.
Major Specifications

Communication System
RF system
Frequency Band
2.4 GHz
Communication Distance
30m
Laser Wavelength
532nm
Main Body Dimensions
119 mm X 41 mm X 27.5 mm
Main Body Weight
105g, approx. (with batteries)
Power Source
Two AA cells
Compatible OSs
Windows98SE, Me, 2000, XP and Vista
Mac OSⅩ and later versions
Accessories
USB receiver, storage case, etc.
Market introduction
Jan. 2008
Planned sales quantity
1,000 units/month
Inquiry
* Please contact the Information Technology Market Department Sec. 3, Sales Division for further information
Tel : 81-3-3785-1237