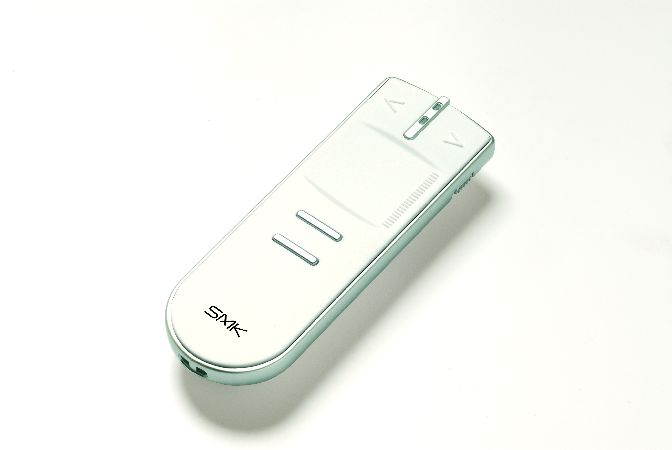 Remote control unit for presentations featuring a capacitive type touch pad, model SSR-BT1, developed
We are pleased to announce the development of a remote control unit featuring a touch pad, suitable for presentation purposes and allowing mouse-like operations remotely. Specifics of this product are outlined below.
In recent years, presentation opportunities have been provided at more business scenes and demand for remote control units with a laser pointer has grown in an attempt to make presentations more appealing and effective. However, laser pointers are weak in the sense that projectors have become brighter, making the point indicated by the laser pointer somewhat hard to view during presentations.
This product is designed to respond to such a need by employing a PC pointer, such as an arrow, in place of a laser pointer. The PC pointer can be easily operated by the thumb in a mouse-like manner. Adoption of Bluetooth® technology for the communication system frees users from the necessity of aiming the remote control unit at the equipment to be controlled. Provision of a slide up/down button for the sliding operation of PowerPoint is another feature. Further, tapping and screen scrolling functions can be added as an application.
Our marketing plan calls for approach to PC and projector manufacturers, as well as to stationery mail order houses and mass retailers for home electric appliances.
Date Released
Dec. 16, 2008
Press Release No.
845fc
Product Name
Presentation purpose remote control unit, model SSR-BT1
Features

1) With a capacitive system touch pad featured for mouse-like operations, the pointer on a screen can be perceptively operated for highly effective presentation.
2) Operation of the "Slide Forward, "Slide Back" and "Blackout" functions of Microsoft's PowerPoint and Apple's Keynote is possible.
3) Operability is improved by allocating the mouse's left button operations to the trigger key located on the lower part of a remote control unit.
4) Omni-directionality available from the employment of the Bluetooth® communication system makes it possible to use the remote control unit facing the screen.
5) Usability is ensured by the arrangement of all buttons within a range which the user's thumb can reach without stress.
6) Provision of a power switch saves power from idle consumption.
Major Specifications

Communication System
Bluetooth® system (Class 2)
Frequency Range
2.4 GHz
Communication Distance
10m
Main Body Dimensions
121 mm X 42 mm X 21.5 mm
Power Source
2 AAA cells
OS
Windows XP and Vista
Mac PSX 10.4 and later versions
Market introduction
Jan. 2009 In the USA market
Mar. 2009 In the Japanese market
Sales quantity expected
5,000 units/month
Inquiry
* Please contact the FC Division for further information
Fax : 81-3-3785-7166