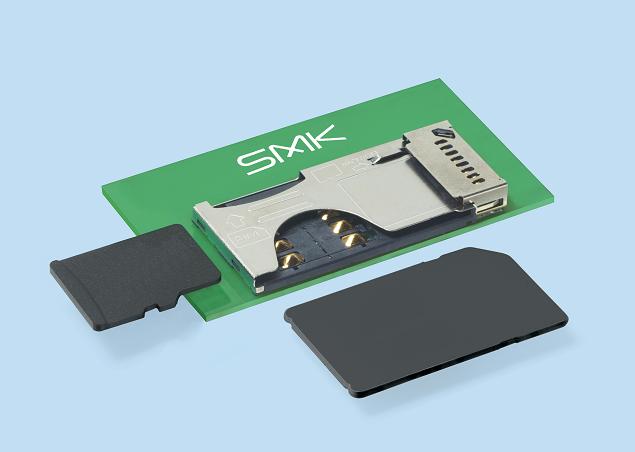 Combo-connector usable for both SIM/microSD™ cards, with connectors for SIM and microSD™ cards integrated in one body, developed and marketed


We are pleased to announce the development and commencement of marketing of a combo-connector for SIM and microSD™ cards.
Requirements for smaller and thinner connectors of various types have increased in recent years as mobile phones have been downsized.
We have integrated into one body a SIM card connector and a microSD™ card connector, which consume a big PWB mounting-space among many mobile phone components, and realized this new PWB-space saving product. (The product takes up approximately 30% less space compared to our previous SIM card connector and micro-SD™ connector). Freedom in connector locations is enhanced for even smaller mobile phone designs.
SIM: Subscriber Identity Module
microSD™: A trade mark of SD Association
Date Released
Jun. 09, 2009
Press Release No.
858cs
Product Name

Combo-connector for SIM and microSD™ cards
Drawing No.
CLE9114-5790F
Features

1) Contributes to PWB space saving, with a SIM card connector and            microSD™ connector put in one body.
2) The SIM card connector section is designed to contribute to reduced depth in end products by using uniquely shaped contacts which enable SIM card insertion from the side.
3) The SIM card connector section complies with the GSM11.11, the European Norm for mobile phones.
4) Good operability is realized by provision of a sufficient card holding margin despite the structure simplified by using a push-pull system (a header type with the connector section for microSD™ cards) for card insertion and withdrawal for both card types.
5) An unintended insertion prevention structure of our original design is employed.
6) The connector section for microSD™ cards features a card detection switch.
7) Heights above the PWB surface when mounted are 2.25 mm with the SIM card connector section and 3.3 mm with the microSD™ card connector section.
8) A suction space is provided for automatic mounting.
9) RoHS Directive compliant.

Major specifications

Voltage and Current Rating
0.5A max., 100V AC/DC
Contact Resistance
100 milli-ohms max.
Insulation Resistance
1000 meg-ohms min.
Withstanding Voltage
500V AC for one minute
Operating Temperature Range
-25 deg. C to +85 deg. C
Operating Life
5,000 cycles (SIM)
10,000 cycles :microSD™
Applications
Mobile phones and SmartPhone
Market introduction
Jun. 2009
Production capacity
500,000 units/month
Inquiry

* For more information, please contact the CS Division
CS : 81-3-3785-1176 / Fax : 81-3-3785-0517