SMKTOP
>
Press release list|April, 2009 ~
> Mobile WiMax™ compatible RF coaxial connectors with a switch, "TS-9 series (edge-mounting design)" for external connections, about 53% shorter above the PWB surface than our previous equivalent products, developed and marketed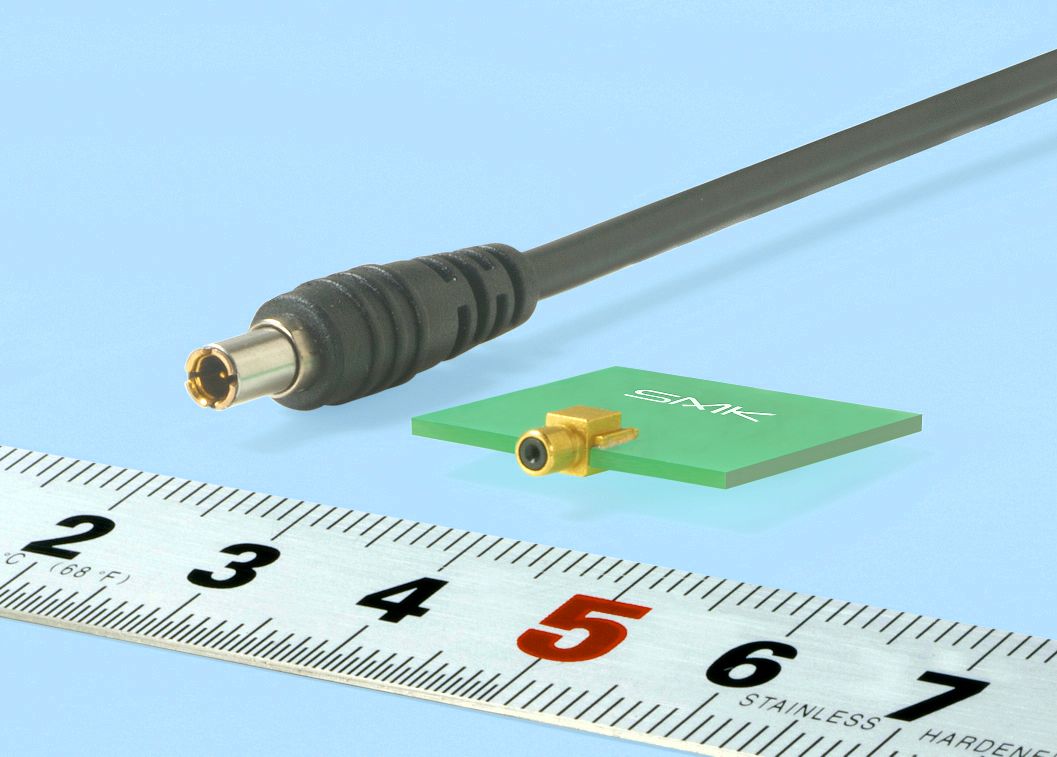 Mobile WiMax™ compatible RF coaxial connectors with a switch, "TS-9 series (edge-mounting design)" for external connections, about 53% shorter above the PWB surface than our previous equivalent products, developed and marketed


Weare pleased to announce the development and commencement of marketing of RF coaxial connectors with a switch, the "TS-9 series (edge-mounting design)".
In recent year, the introduction of highly functional notebook PCs led to a high demand of wireless communication system that facilitates high-speed transmission and communication and the Mobile WiMax™ has attracted the attention as the next-generation radio communication standard. Equipments that are equipped with Mobile WiMax™ are increasing, and the needs for WiMaxTM compatible coaxial connectors are also increasing.
This new product is a coaxial connector featuring a switch for switching connection/external connection of an internal antenna and external antenna, developed for applications with mobile communications devices such as PC cards and mobile phones. The operation frequency range extends from DC to as high as 3GHz with a highly matching and good frequency characteristics, and is compatible with Mobile WiMax™
. Since the switch mechanism is inside the receptacle and the switch changes with the mating of the plug, switching to the external antenna or output inspections are performed easier.
We have previously launched the on-board type of the same series and have earned favorable ratings. For this new product, we have made the profile of the PWB surface height of the receptacle lower. By adopting the edge-mounting method (to rest in a recess provided on a PWB surface), compared to our previously launched product, a lower profile of about 53% has been realized, and this contributes to thinner equipments.
The mating operational life of the receptacle and the plug is 5,000 times and this is realized due to excellent mechanical strength.
Mobile WiMax
™ :
Trademark of Mobile Worldwide Interoperability for Microwave Access WiMAX Forum
Date Released
Jul 31st, 2009
Press Release No.
861cs
Product Name
RF coaxial connectors with a switch, "TS-9 series (edge-mounting design)"
Drawing Nos.
Receptacle: CRS5001-4501F
Plug: CRC9001-8201F (1.5D) ( ):usable coaxial cable
CRC9001-7802F(RG174/U)
CRC9001-5301F (0.8D)
Features

1)External connection is possible with this SMT-ready right-angle type coaxial connector with a switch.
2) The operation frequency ranges extensively from DC to 3 GHz with good frequency characteristics.
3) The receptacle is an edge-mounting design (to rest in a recess provided on a PWB surface) and corresponds to thinner equipment. It is 1.5mm high from the PWB surface
4) A half-locking mechanism is employed for mating of the receptacle and the plug for an ensured clicking sensation.
5) Operation life is as long as 5,000 cycles.
6) Our exclusive double-contact structure with the receptacle provides excellent contact reliability.
7) Receptacles are packaged on embossed tape for automatic mounting operation.
8) The usable coaxial cable of the plug is compatabile to 1.5D (Φ3.0mm), RG174/u (Φ2.55mm), 0.8D (Φ2.0mm).
9) RoHS Directive compliant.
Major specifications
Voltage and Current Rating
100V AC/DC
Frequency Range
DC to 3GHz
Nominal Impedance
50 ohm
V.S.W.R.

(both normal close and normal open)
1.3 max (DC-1GHz)
1.5 max (1-3GHz)

Insertion Loss
(normal close) 0.2dB max. (DC-1GHz),
0.3 dB max (1-3GHz)
(normal open) 0.3dB max. (DC-1GHz),
0.4 dB max (1-3GHz)
Operating Temperature Range
-25 degrees to +85 degrees
Operation Life
5,000 times
Applications
Notebook PC, PC cards, Mobile phones, Wireless LAN, Bluetooth, etc.
Inquiry
* Please contact CS Division for further information :