SMKTOP
>
Press release list|April, 2009 ~
> RF coaxial connector with a switch, TS-10 series, industry's smallest mounting area with approx. 42% reduction from our previous equivalents developed and marketed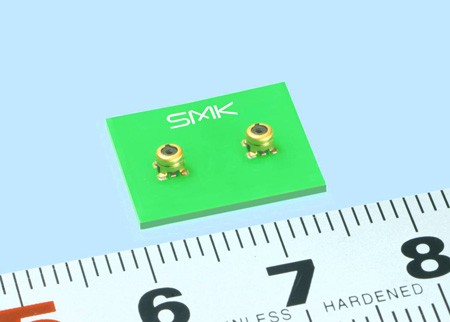 RF coaxial connector with a switch, TS-10 series, industry's smallest mounting area with approx. 42% reduction from our previous equivalents developed and marketed

We are pleased to announce the development and commencement of marketing of the "TS-10 series", RF coaxial connector for SMT with a switch intended for inspection and measurement of RF characteristics of mobile communication equipments such as mobile phones.
In order to conform to smaller equipments, this new product has successfully realized the reduction of mounting area of the PWB which lead to the industry's smallest mounting area of 2.2mm × 2.2mm (approx. 42% reduction from our previous equivalent products).
The operation frequency range extends from DC to as has high as 6GHz with highly matching and good frequency characteristics. For inspection and measurement of RF performance, the application is for mobile phones typically also extends to ITS-related products such as mobile ETC equipment and wireless LAN products.
Date Released
Sep. 03, 2009
Press Release No.
866cs
Product Name

RF coaxial connector with a switch, "TS-10 series"
Drawing Nos : Receptacle CRS5001-4301F
Plugs CRC9001-6801F (mating type)
CRC9001-6901F (probe type)
Features

1) A straight type RF coaxial connector for SMT with a switch.
2) Their operating frequency range covers DC to 6 GHz and provides a highly matching and excellent RF performance.
3) With the receptacle height being 1.7 mm and the mounting area being 2.2 mm × 2.2 mm and the mass being 0.02g, they are super small and space-reducing products.
4) Plugs are available in a mating type fit for manual inspection and a probe type good for automatic inspection.
5) The plug of the mating type employs a half-locking system and provides a clicking sensation for better operability.
6) Consideration is give to tilted plug insertion; and therefore, high PWB mounting strength is realized.
7) Receptacles are embossed-tape packaged for automatic mounting possibilities.
8) RoHS Directive compliant.
Major specifications

Voltage Rating
100V AC/DC
Frequency Range
DC-6Ghz
Nominal Impedance
50Ω
V.S.W.R. (normal close)
1.3 max (DC-3GHz)
1.5 max (3-6GHz)
Insertion Loss
(normal close) 0.2dB max (DC-3GHz)
0.3dB max (3-6GHz)
Isolation
20dB min. (DC-3GHz)
14dB min. (3-6GHz)
Operation Temperature Range
-25(C) degree~ +85(C) degree
Applications

ITS related products such as mobile phones and mobile ETC equipment, wireless LAN products , etc.

Market introduction
Sep. 2009
Inquiry

* For more information, please contact the CS Division
Tel : 81-3-3785-1176