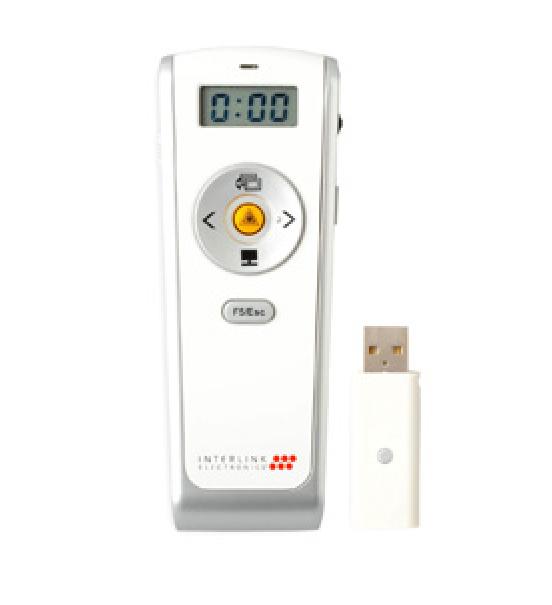 "Presienne VP4567", a remote control for presentation developed

We are pleased to announce the development of "Presienne VP4567" featuring a timer and scroller as the new product of remote control for presentations. The commencement of marketing will begin from November 2009.
This new product features a LCD screen with backlight so that passed time can be understood and is suitable for presentation with time limits. By this feature, it is possible to check the passed time from the remote control.
Another new feature is the scroller which is capable of vertically scrolling Excel® and website pages.
Prior to the commencement of marketing, the new product will be on display at "CEATEC JAPAN", the IT and Electronics Comprehensive Exhibition (booth number: 6C37, Hall 6) which starts from October 6, 2009.
Our marketing plan calls for approach to stationery and PC peripheral equipment mail order houses, Internet mail order houses and mass retailers for home electric appliances.
Date Released
Oct. 05, 2009
Press Release No.
873fc
Product Name
Presienne VP4567
Features

1) timer feature (units: minutes, up count)
2) scroller is installed
3) laser pointer (red) is installed
4) Operation of "Slide Forward", "Slide Back", "Blackout" and "Start Slideshow and End Slideshow" and application switching (Alt+Tab) is possible.
5) The USB receiver of the remote control can be stored inside the main body of the remote control; and therefore, it is easy to carry.
Major specifications

Communication System
RF system
Frequency Range
2.4GHz
Communication Range
approx. 20m (depending on the usage enviorment)
Body Size
44mm×125mm×22mm
Body Weight
approx. 78g
Power Source
Two AAA Batteries
Corresponding OS
Windows 2000, WP, Vista, 7
After Mac OS X
Accessories
USB receiver, carrying case and others.
Applications

Personal Computer

Market introduction
November 2009
Production capacity
1,000 units/month
Inquiry

* For more information, please contact the Sales Division Information Technology Market Dept.
Tel : 81-3-3785-1237