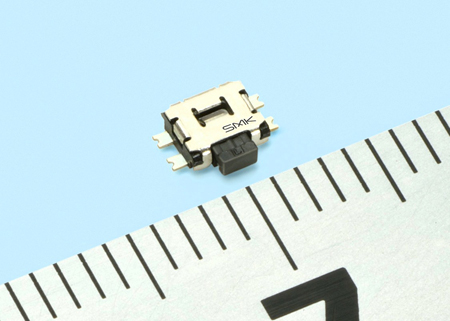 A long-life thin horizontal switch developed
We are pleased to announce the development of a long-life switch, which is the latest addition to variations in our tactile design thin horizontal switch.
In recent years, cellular phones have become increasingly more sophisticated and include the functions of a camera, video, and one-segment TV. Market demand for long-life switches is expected to grow in the future in order to accommodate game functions.
To meet such needs, we developed the thin horizontal switch, which can operate one million cycles, meaning it lasts ten times longer than conventional products.
In the new product, we changed the material in the current contact dome, which is 1.1 mm thick and suitable for the thin design of equipment, to long-lasting material to achieve long product life.

Date Released
Mar. 26, 2010
Press Release No.
887fc
Product Name
Long-life thin horizontal switch
Features

1) This product can operate one million cycles and is suitable for game controls.
2) Low profile 1.1 mm thick.
3) Click rate over 30% after re-flow provides a good operational feel.
Principal specifications




Rating
DC 12V 50mA
Operation Force
1.5N
Strong
0.2mm
Operating Life
1,000,000 cycles
Outside dimensions
3.3 mm (W) x 2.8 mm (D) x 1.1 mm (H)
Applications
Cellular phones, digital portable audio products, IC recorders, and other portable device
Sample Shipment
Starts May 2010
Mass Production
Scheduled for October 2010

Production capacity
1,000,000 units per month (December 2010)
Inquiry
* For more information, please contact the FC Division