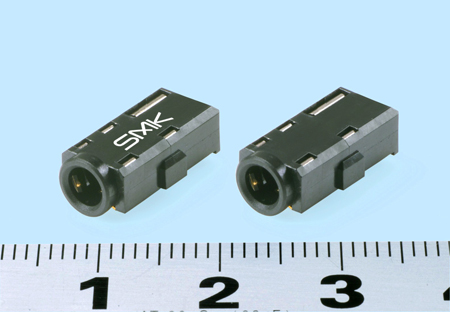 Development and Release of a "Φ3.5mm Mini Jack (Spring Terminal)"

We are pleased to announce the development and release of the "Φ3.5mm mini jack (spring terminal)".
In line with trends in recent years for small, portable equipment such as mobile phones and portable audio equipment to become smaller, thinner and more functional, demand for smaller and thinner parts with high-density mountability has increased. The Φ3.5mm jack can be installed on a wide variety of equipment, such as a connection between headphones/headphones and main unit bodies, and demand for this product is increasing.
Responding to market demands, this 4-pole type product realizes a width of 4.6mm (15% smaller than our previous equivalent 5.4mm product), contributing to an increasingly slender and compact set design.
To support mountability to the PWB, a spring terminal system forming the terminal into a spring-shape is used, and is structured to push the terminal into the PWB when incorporated into the set. By enabling connection to the PWB without using solders, this new product provides a solder-free alternative that is kind to the environment.

Date Released
Apr. 28, 2010
Press Release No.
892cs
Product Name

Φ3.5mm mini jack (low-profile spring terminal)
Drawing No. LGY2409-0200F
Features

1) Realizes a width of 4.6mm (15% smaller than our previous equivalent 5.4mm product) by adopting our unique new spring structure, contributing to an enhanced slender and compact set design.
2) Mountability to the PWB is enabled by a spring terminal and is solder-free.
3) 4-pole type with 1 switch function. In addition to audio L/R and GND, it is possible to connect one more signal.
4) Adopts a plug-mediated sleeve make-switch system for plug detection, and its self-cleaning effect improves contact reliability.
5) RoHS Directive compliant product.
Major Specifications

Rated voltage/current
12V DC, 1A
Contact resistance
30m ohms max., 1-100mA
Insulating resistance
100M ohms min., 500V DC
Withstanding voltage 
500V AC/minute
Operation temperature range
-30℃ to +80℃
Applications

Mobile phones, smartphones, portable audio, and other compact AV equipment

Release date  
April, 2010
Inquiry

* For more information, please contact the CS Division