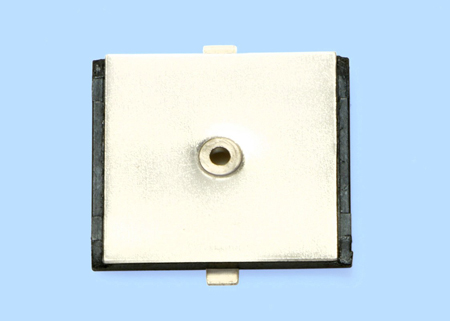 Development of Transfer Jet™ Wireless Technology-Compatible Antenna Coupler (low-profile type)


  We are pleased to announce that we have developed and are now taking orders for a Transfer Jet™ wireless technology-compatible antenna coupler (low-profile type) – "FX8030".
Transfer Jet™ is a close proximity wireless transfer technology that was developed to enable simple operation, safe connection and efficient transfer of data. Features include operating distance of a few centimeters maximum and connection style is constantly 1-to-1, enabling secure communications. Therefore, differing to conventional antennas, the antenna coupler for Transfer Jet ™ wireless technology is designed to reduce distant electric field components and amplify close electric field signals, so power is radiated only when an antenna coupler comes within close range.
As an addition to our standard type antenna coupler (FX8011), which we launched in October 2009, we have now developed a compact, low-profile type, with a 10mm width, 10mm depth and 1mm height. Adopting reflow soldering techniques, the stand-alone antenna coupler is structured to allow direct mounting to an antenna coupler set's board, contributing to sets' overall compactness and thinness (design and structure is patent pending).
In addition to the stand-alone antenna coupler, we can also offer a ready board-mounted version.
We shall continue to actively develop products and provide new products.
(Transfer Jet and Transfer Jet logo is a trademark of the Sony Corporation.)
Date Released
Jul. 29th, 2010
Press Release No.
896fc
Product Name
Transfer Jet™ wireless technology-compatible antenna coupler (low-profile type) – "FX8030"
Features

1)A compact, low-profile type antenna coupler compatible with Transfer Jet™ wireless technology.
2) Enabling the stand-alone antenna coupler to be directly mounted to an antenna coupler set's board with reflow soldering techniques, contributes to sets' overall compactness and thinness.

Major Specifications



Dimensions
10mm (W) × 10mm (D) × 1.0mm (H)
Bonding Strength (S21)
-25dB min.
Mounting method
Reflow soldering
On-sale Date
August, 2010
Applications
To be embedded in products such as DSCs, DVCs, mobile phones, notebook computers, and printers
Sample price (trial product)
\2,000 per unit
Inquiry
* For more information, please contact the FC Division.