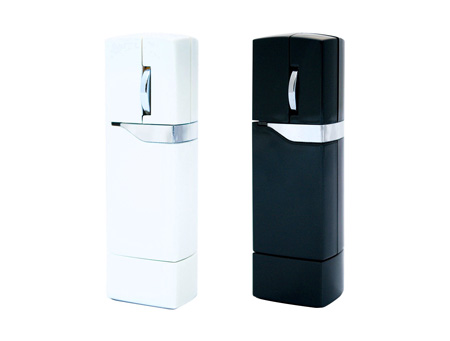 Introducing the Ultra-Small Wireless Mouse"Ultra-Mini Mouse" VP6175/VP6176


 SMK Corporation recently unveiled the "Ultra-Mini Mouse," its newest product in the "Crystal Lipstick Mouse" series, which features various models of wireless mouse perfectly suited for mobile PCs. The series went on sale in December 2009 and has become very popular because of the small size and outstanding décor of the products. The "Ultra-Mini Mouse" features a new exterior and will go on sale in October 2010.
The new "Ultra-Mini Mouse" is extremely portable because it is light and compact, and it is perfect for using in confined spaces. It was designed in the shape of a stylish lipstick case.
Plus, the receiver doubles as a charger – you can charge the mouse when the receiver is plugged into a PC's USB port and the opposite side of the mouse is hooked up to the receiver.
The new "Ultra-Mini Mouse" comes in black and white, and we have made plans to sell this new product in the following places:
※Home electronics stores, interior decorating shops and other retailers, Internet mail-order companies.
Date Released
Sep. 22, 2010
Press Release No.
898fc
Product Name
Ultra-Mini Mouse (RCAPA4)

VP6175 (black) VP6176 (white)

Features
1) Light, compact and extremely portable; perfect for using in confined spaces
2) Rechargeable in about one hour through PC USB port; no dry batteries required.
3) 2.4 GHz wireless system delivers consistent signal connection.
Major specifications

Frequency Band
2.4 GHz
Signal Range
about 3m (varies according to user environment)

Reading System/Resolution Power

optical 800dpi
Device Dimensions
24.8mm x 65.8mm x 17.6mm
Device Weight
23.7g
Receiver Dimensions
24.8mm x 24.7mm x 17.6mm
Receiver Weight
8.3g
Battery
Lithium Polymer Rechargeable Battery
OS Supported
Windows 2000, XP, Vista 7
Accessories
USB receiver, dock, etc.
Planned Release Date

VP6175 (black): October 2010,VP6176 (white):October 2010

Inquiry

Call (03) 3785-1237 with questions
Jun Hatakeyama, Sales Department, IT Market Division, Section 3