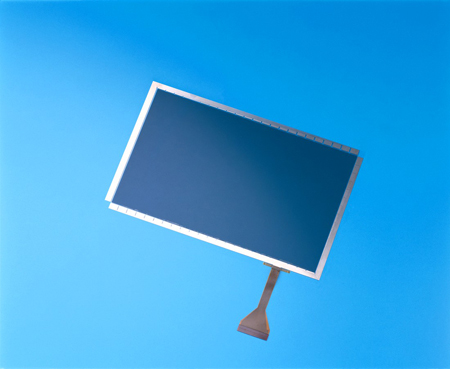 Development and Release of Automotive Capacitive Touch Panel

    
We are pleased to announce that we have developed and started taking orders for an automotive capacitive touch panel.
We have been selling compact size capacitive touch panels for application in mobile equipment over the last two years, and these have gained high praise from the market for their use mainly in mobile phones.
  In recent years, there has been demand for multi-touch operation, a light operating feel and full-flat structures when it comes to touch panels used for vehicles such as car navigation systems and central control .
To respond to such needs, we have developed an "automotive capacitive touch panel".
 This touch panel allows a number of easy operations such as multi-touch input to expand or shrink maps, a flick input method for scrolling through maps, and a drag-and-drop function to make destination settings.
In response to increasing demands for a stylish external design, this product can achieve a uniform full-flat structure that is completely level with the screen housing by attaching a design film to the surface of the touch panel.
In addition, it is demanded that standard automotive touch panels have high heat resistance so it is necessary for products to clear an operating temperature of -30℃ to +85℃ and a storage temperature of -40℃ to +95℃. Making use of experience producing resistance sensitive touch panels for automotive use gained over more than 10 years, we pioneered the use of capacitive touch panels and created a model able to clear specifications for automotive use.
Further, similar to car navigation equipment, demand has increased for low reflectance touch panels for prevention of image reflection on the panel surface under direct sunlight and for improved visibility of images on display screens. In response to demands for such low reflectance displays, we have managed to keep reflectance as low as 1.5% thanks to our optical techniques acquired during the production of resistance sensitive touch panels.
The touch panel size is compatible with the standard automotive display size of 6.1 to 8 inches.

The market introduction of this highly operable and stylish product will meet increasing demands in the automotive industry for capacitive touch panels.
Production of this product will be carried out by our Philippines factory at a monthly output of 100,000 units.
 This product will be exhibited at the combined IT and electronics "CEATEC Japan 2010" exhibition held from 5th October, after which we will proceed with full-scale sales activities.

Date Released
2010/10/01
Release No.
903tp
Product Name
Automotive Capacitive Touch Panel
Features
1)Compatible with standard automotive specifications.
2) Detects two-fingered multi touch input.
3) Can be operated by flicking the touch panel and drag-and-drop input is possible.
4) Zero-force touch input is possible.
5) Attaching a design film enables a full-flat structure.
6) Reduces reflection on touch panels.
7) A screen size of up to 8-inches is available.
Major Specifications
Reading system
Capacitive system (projection type)
Input force
ON
Input method 
By finger
Operating temperature range
-30℃~+85℃
Storage temperature range
-40℃~+95℃
Transparency
90%(MAX)
Reflectance
1.5%(MIN)
Driving voltage
5V
Current consumption
20mV
Interface 
I2C
Applications
Car navigation equipment and central controls for vehicles
Production Capacity
100,000 units per month (6.5 inch units)
Inquiry

For more information, please contact the TP Division