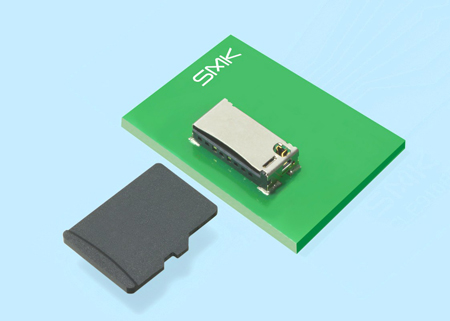 Development of "Header-type (H = 2.45 to 6.00mm) Connector for microSD™ Cards" with the Industry's Smallest Mounting Space


  We are pleased to announce the development of a "header- type connector for microSD™ cards".
Based on our unique design, this product's structure supports variable height from 2.45mm to 6.00mm, improving the design freedom of equipment.
With a width of 11.45mm and length of 5.3mm, this space-saving header-type connector achieves the smallest mounting space in the industry. As well as exploiting the size merits of microSD™ cards, it makes effective use of space within devices through height variability, contributing to the increased thinness and smallness of devices such as mobile phones.
Its shield cover ensures sufficient soldered ground contact area in each corner, enabling high resistance to twisting force and providing a strong structure for card insertion through its connector reverse back-up. Further, due to its unique card detection SW structure, the soldered part of each SW is placed at the back of the connector, preventing electrostatic discharge (ESD).
This product is added to our repertoire of microSD™ card connectors, which also includes push (lock)/pull (eject) and hinge models.
In the future, we intend to expand our repertoire of connectors that support various kinds of small-size memory cards.
Note) microSD™ is the trademark of the SD Association.

Date Released
Dec. 22nd, 2010
Press Release No.
908cs
Product Name
Header-type connector for microSD™ cards
Drawing No.
CLE9108-92xxF
Features

1) A model that supports height variability from 2.45mm to 6.0mm.
2) A space-saving model with a width of 11.45mm and length of 5.3mm.
3) Its unique card detection SW and shield cover structure prevent electrostatic discharge (ESD), enhance shielding performance, and improve mounting strength.
4) Card insertion/extraction uses manual insertion, and the insertion direction is the normal type.
5) An SMT model (surface mounted).
6) Supports automatic mounting by providing adsorption space.
7) RoHs compliant product.

Major Specifications



Voltage and Current Rating
0.5A, 5V, AC/DC
Contact Resistance
Initially 100m Ω max.
Insulating Resistance
1,000MΩ min.
Withstanding Voltage
AC 100V (1 min.)
Operation Temperature
-30℃ to +60℃
Operating Life
-30℃ to +60℃
Release Date
December, 2010
Applications
Mobile phones, smartphones, digital cameras, PDAs and other mobile devices
Production Capacity
1,000,000 units per month
Inquiry
* For more information, please contact the CS Division.