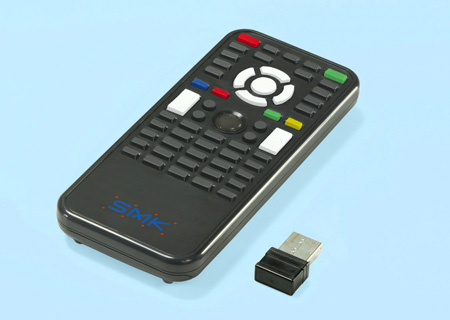 Development of ZigBee®RF4CE-Compatible RF Remote Control (SSR-RF58) and Receiver (SSR-RFNANO)

We are pleased to announce the development of a remote control and receiver loaded with our RF module containing a built-in 2.4GHz band antenna compatible with ZigBee®RF4CE1 especially suited to remote control use.
 In recent years, it has been a requirement for AV equipment remote controls to be capable of controlling multiple devices with one remote control and to be able to adjust to various input scenes.
In response to such needs, we have developed a standard remote control loaded with an "RF module containing a built-in 2.4GHz band antenna" and a small-size receiver to be used with this equipment. The communication system adopts the ZigBee®RF4CE platform which is currently growing in popularity. It enables N-to-N high reliability two-way communication, low power consumption, coexistence with other 2.4GHz band RF, and security settings.
 This new remote control features two-way communication and network functions by using radio frequencies, enabling more convenient and easier operation. The receiver's small size also contributes to the increased space-saving capacity of this equipment.
Our repertoire of RF remote controls includes this RF remote control and receiver in addition to previously developed RF modules, and we intend to further expand our remote control operations through the increased expansion of our product lineup.

Terms
1: RF4CE
Radio Frequency for Consumer Electronics 
2: FCC
Federal Communications Commission (US)
3: CE
Derived from Latin-based EU languages.
In the case of French, it corresponds to the initial letters of Communauté Européenne.
Date Released
Jan. 06, 2011
Press Release No.
909fc
Product Name

ZigBee®RF4CE-compatible RF remote control (SSR-RF58)

ZigBee®RF4CE-compatible RF receiver (SSR-RFNANO)

Features

1) Increased thinness of equipment is realized by using cell batteries.
2) The communication system is compatible with ZigBee®RF4CE Specification Version 1.00.
3) Employment of radio communication system using 2.4GHz ISM band enables worldwide compatibility, contributing to equipment standardization.
4) Obtaining certification is planned for single modules according to the Japanese Radio Law, FCC2 and CE3. Obtaining RF certification for equipment is unnecessary, contributing to the reduction of equipment development time and lower certification costs.
5) The small size of the receiver helps to realize the free layout of equipment.
Major specifications

RF Standard
ZigBee®RF4CE specification version
1.00 compatible
Supply Voltage
Remote control : 2.1 to 3.4 VDC

Receiver : 4.4 to 5.25 VDC

Operation Temperature Range
-10℃ to +50℃
External Dimensions
Remote control - 131mm x 58mm x 17mm
Receiver - 24mm x 16mm x 8mm
Receiver I/F
USB
Frequency Range
2400 to 2483.5MHz
Transmission Distance 
10m min. (Reference only)
Applications

Various types of electrical products*

* Various types of electrical products: HDTV, home-theater equipment,
AV equipment such as set top boxes and audio, home automation,
home security, water heaters, lighting, air conditioners, and computers, etc.

Inquiry

* For more information, please contact the FC Division