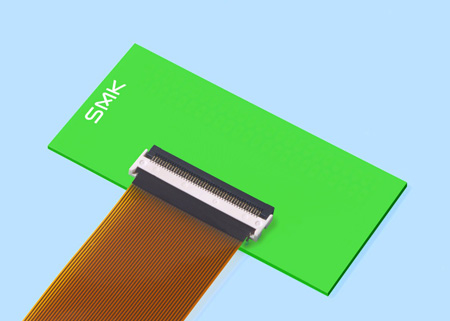 Development and Launch of the "BF-51 Series" Back Flip Lock Type FPC Connector with Low-Profile and Improved Operability

We are pleased to announce the development and launch of the back flip lock type "BF-51 Series" FPC connector.
This product uses a 0.5mm pitch, right angle, ZIF structure as well as a back flip system to open and close the cover, contributing to improved operability and greater freedom to draw in the FPC.
In recent years, there has been demand for improved freedom of design and secure contact reliability in AV and automotive equipment.
With standard front flip systems, the direction in which the FPC can be laid since is restricted since it is difficult to secure adequate tensile strength in the vertical direction of the FPC. However, this product solves this problem by using a structure that directly relieves the load from the cover with its back flip lock.
Further, secure contact reliability is ensured as well as greater wiring freedom within FPC devices because there is an upper and lower point of contact with the FPC, each providing stiffness. The applicable FPC supports both an untrimmed shape to improve tensile strength and a standard straight shape.
Despite having both an upper and lower point of contact, this is a small-size connector with a contained height of 1.8mmm and it is expected that this product will be suitable for a wide range of applications such as AV, automotive and office equipment.
Date Released
Feb. 01, 2011
Press Release No.
910cs
Product Name

BF-51 Series 0.5mm Pitch FPC Connector
Drawing No. CFP97xx-0101F
Features
1) 0.5mm pitch, 1.8mm height, small-size FPC connector.
2) Improves operability and freedom to draw in the FPC with its back flip type ZIF structure.
3) Has an upper and lower point of contact.
4) The applicable FPC supports both an untrimmed and a standard straight shape.
5) Supplied in embossed taping with an automatic mounter.
6) RoHS compliant product.
Major specifications

Voltage and current rating
0.5A, 50V, AC/DC
Contact Resistance
30mΩ max.
Insulating Resistance
100MΩ min.
Withstanding Voltage
AC100V (1 min.)
Operating Temperature Range
-40ºC to +85ºC
Applications
AV equipment, automotive equipment, personal computers, and office equipment.
Production Capacity
1,500,000 units per month
Inquiry
For more information, please contact the CS Division.