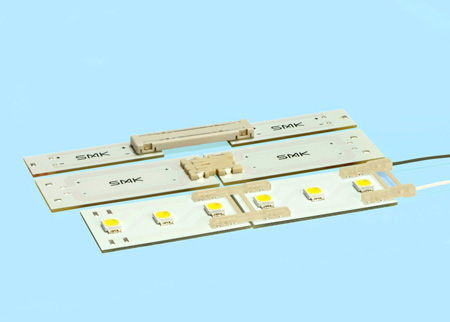 Development of LED Lighting Connectors with Emphasis on Safety and Heat-Resistance


 align left>We are pleased to announce that we have developed a series of connectors for LED lighting.
 Safety and heat resistance were fully taken into account when designing this product. The design complies with IEC standards and the Electrical Appliance and Material Safety Law, and creepage distance and spatial distance have been secured.
 The product lineup consists of a total of five models. This includes three models for base and line lighting and two models for LED lamps.
Three models for base and line lighting
LT-1 Series: Horizontal type connector that is horizontally mated on LED mounting boards.
LT-2 Series: Bridge type board to board connector for LED boards fixed to a frame.
LT-3 Series: This connector is structured for easy alignment using a smaller LED pitch than the LT-2 Series.
This product emphasizes assembly safety through its anti-electric shock structure.
Three types of plug are available for the above 3 models, consisting of a board to board plug, a power-feed plug, and a short plug, and the standardization of LED mounting boards is enabled through standardized board sockets.
Two models for LED lamps
LT-4 Series: E26 base type LED connector.
LT-5 Series: E17 and E11 base type connectors that are smaller than the LT-4 Series.
The above two types are one-piece card edge connectors that directly connect power boards and LED mounting boards, enabling harnessless assembly and contributing to reduced man-hours.
It is believed that demand for LED lighting connectors will rise steeply in the future, so we intend to actively develop our sales operations in this area.
 .

---
Profile of LED Lighting Products.
| | | | |
| --- | --- | --- | --- |
| Product No. | LT-1 | LT-2 | LT-3 |
| External appearance | | | |
There are no photos of the LT-4 and LT-5 Series products.
Date Released
Mar. 10th, 2011
Press Release No.
914cs
Product Name
LED Lighting Connector
Features

1) The design complies with IEC standards and the Electrical Appliance and Material Safety Law.
2) Safety is emphasized by securing creepage distance.
3) Both horizontal and vertical mounting types are available for base lighting, helping to improve operability.
4) Two connector types are available for LED lamps in line with working voltage and creepage distance differences.
Major Specifications



Voltage and Current Rating
2A, 300V, AC/DC (LT-1, 2, 3, and 4 Series)
1A, 100V, AC/DC (LT-5 Series)
Operating Temperature Range
-40ºC to +105ºC
Creepage Distance
3mm or more (LT-1, 2, 3, and 4 Series)
1.2mm or more (LT-5 Series)
On-sale Date
April, 2011
Production Capacity
300,000 units per month
Inquiry
* For more information, please contact the CS Division.