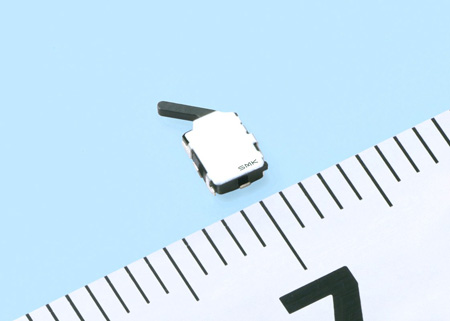 Development of "DSK Series" Detector Switch with Improved Space-saving and Operability
We are pleased to announce the development of our industry-smallest "DSK Series" detector switch.
 This product reduces the size (16% reduced volume) of our existing product (DSI Series), and lengthens the full-stroke by 1.6mm and the on-stroke by 1.2mm, contributing to improved design freedom.
In line with a trend in recent years for smaller and thinner mobile phones and portable audio equipment, similar demands for electronic components have increased. As the number of high-performance and large memory capacity equipment such as smartphones increase, there is greater demand for detector switches to be installed in a large amount of equipment. These switches can detect the opening and closing of battery packs and memory card covers, helping to prevent the sudden loss of important memory caused by incorrect operation.
Detector switches are used not only for detection but also for battery charger and liquid crystal display rotation, and sometimes as a substitute for slide switches.
 We intend to expand our switch operations through the continued and proactive development of new products.     
Date Released
2011/03/15
Released No.
916fc
Product Name
"DSK Series" detector switch
Features

1)Saves space occupied by boards. (16% lower volume than our existing products)
2) As well as its industry-smallest size, it is a right-angle type detector switch that lengthens the stroke (full stroke - 1.6mm; on stroke - 1.2mm)
3) The height of the switch itself is 1.1mm, achieving increased thinness.
4) RoHS compliant product.
Major Specifications
Voltage and current rating 
DC5V 10mA (resistance load)
Circuit
1 circuit 1 contact point
Operating force
0.35N (max.)
Stroke
1.6mm (Full)
Operating Life
50,000 cycles
External dimensions
2.8mm (W) × 3.3mm (D) ×1.1mm (H)
Operating Temperature Range
-10ºC to +70ºC
Applications
Mobile phones, smartphones, digital portable audio equipment, IC recorders, and other portable equipment
Start accepting orders from
July, 2011
Inquiry
For more information, please contact the FC Division.