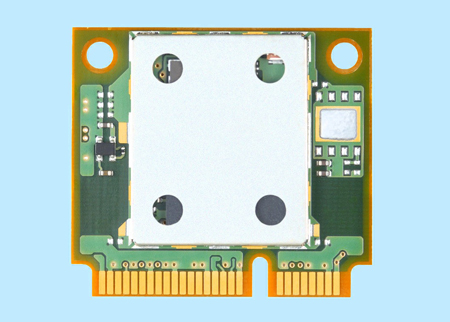 Development of a User-Friendly RF Module Compatible with TransferJet™ Wireless Technology

We are pleased to announce that we have developed and are now taking orders for an RF module compatible with TransferJet™ wireless technology.
TransferJet™ is a close proximity wireless transfer technology that was developed to enable simple operation, safe connection and efficient transfer of data.
Features include an operating distance of a few centimeters maximum and connection style is constantly 1-to-1.
Previously-released TransferJet™-related products included a wireless antenna coupler, however, we have now developed a wireless technology-compatible RF module that supports PCI Express.
It will be mainly embedded in PCs, and a coaxial cable is used to connect to TransferJet™ couplers.
We intend to actively develop products and provide new products in this field in the future.

(Transfer Jet™ and the Transfer Jet™ logo is a trademark of the Sony Corporation.)

**Note**
PCI Express -->>> Serial transmission interface for personal computers that was formulated by the PCI-SIG in 2002.
Date Released
Mar. 31, 2011
Press Release No.
922fc
Product Name

TransferJet™ wireless technology-compatible RF module
Features
1) The interface complies with PCI Express (Half-Mini Card).
2) Connects to antenna coupler (for TransferJet™) via a coaxial cable.
Major specifications

Dimensions
30mm × 26.8mm × 4.5mm
( Half-Mini Card: H2 Type )
Interface
Compliant with PCI Express (Gen. 1)
Wireless center frequency
4.48GHz
Occupied bandwidth
560MHz
RF output level
-70 to -74dBm
Applications
To be embedded in devices such as notebook computers, digital cameras, printers, and multifunction machines.
Start shipping samples from
April, 2011
Inquiry
For more information, please contact the CS Division.