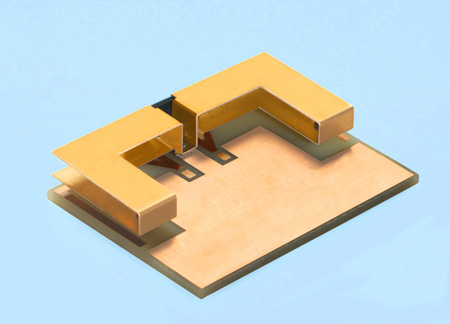 Development of a WiMAX™-Compatible and Built-in MIMO Antenna Contributing to the Increased Compactness of Equipment
We are pleased to announce that we have developed and started taking orders for our "FD8001" WiMAX™-compatible built-in MIMO antenna.
This product contributes to the increased compactness of equipment by positioning two antennas proximally and combining them into one antenna, while at the same time securing isolation performance. (The structure is patent pending.)
Normally, two antennas are positioned separately by using MIMO to secure isolation performance, but positioning the two required antennas proximally so they take up the space of one antenna cuts the number of components and contributes to reduced man hours in the installation of the main unit itself.
Further, a folded monopole type element structure is adopted for antenna performance purposes, and the mounting conditions ensure the antenna is not easily affected by adjacent components.
We intend to actively develop products and provide new products in this field in the future.
** Note **
MIMO-->>> Multiple Input Multiple Output         
Wireless communication technology that improves data transmission bandwidth through the use of multiple antennas.
It is used to speed up wireless LAN.    
Date Released
2011/03/31
Released No.
923fc
Product Name
"FD8001" WiMAX™-compatible built-in MIMO antenna
Features

1)Two in one type MIMO-compatible antenna.
2) A dual band antenna supporting 2.5GHz and 3.5GHz band.
3) Board-mounting type antenna that supports reflow.
Major Specifications
Dimensions
30mm (W) × 14.5mm (D) × 4.2mm (H)
Frequency range
2.5GHz band 2.3GHz to 2.7GHz
3.5GHz band 3.4GHz to 3.8GHz
VSWR
3 max. (2.5GHz and 3.5GHz band)
Isolation
10dB min. (2.5GHz and 3.5GHz band)
Applications
WiMAX™ devices such as communication cards
Start accepting orders from
April , 2011
Inquiry
For more information, please contact the FC Division.