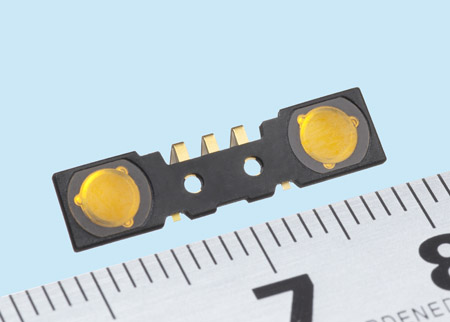 Development of a "Double Dome Switch (Mid-Mounting Type)"with high contact reliability
We are pleased to announce that we have commenced sales of our "Double Dome Switch (Mid-Mounting Type)", which adopts a "spring contact system", thus expanding our lineup of dome switches.
 This product was developed for devices with operating buttons, such as volume adjustment and forward/rewind, on the housing side face.
There is a demand for increasingly compact and thin electronic components in small device markets, such as mobile phones and smartphones. In addition, the increased reliability of switches is demanded to prevent them becoming detached from the PWB due to impact caused when assembling or using equipment.
We have secured contact reliability by adopting a "spring contact system", which has gained favorable reviews as a 1-dome switch that can respond to such market needs.
Further, this product is a mid-mounting type that enables equipment to be designed more easily because the switch control panel is positioned towards the center of equipments' housing.
Date Released
May. 31, 2011
Press Release No.
926fc
Product Name
Double Dome Switch (Mid-Mounting Type)
Features

1) The switch is not soldered to the PWB, so it is impact resistant.
2) Reflow soldering is not used, so it will not be damaged by heat and there is no variation in feeling.
3) Solder-free mounting on equipment contributes to the protection of the environment when recycling.
4) No key stem (protrusion) in the switch unit prevents the switch from being damaged when the housing is being assembled.
Major specifications
Rating
10mA, DC12V
Circuit
1 circuit 2 contact points
Operation Force
1.7N ± 0.6N
Stroke
0.2mm ± 0.1mm
Operating Life
100,000 cycles
External dimensions
19.87mm (W) × 0.9mm (D) × 1.9mm (H)
Click rate
25% min.
Applications
Mobile phones, smartphones, tablet PCs, IC recorders, portable audio equipment, etc.
Market Introduction
June 2011
Production capacity
1,000,000 units/month
Inquiry
* For more information, please contact the FC Division: