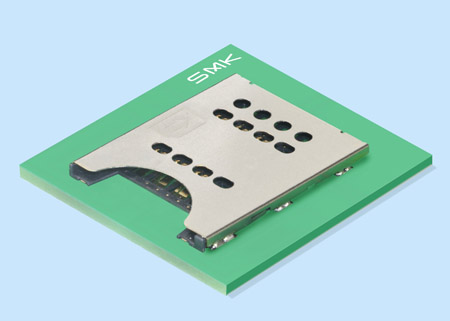 Development and Release of Low-Profile and Highly-Reliable SIM Card Connector

We are pleased to announce that we have developed and released a low-profile type SIM card connector for mobile communications devices such as smartphones and tablet PCs.
At a height of just 1.32mm, this product is a low-profile and space-saving connector. With the card detection switch, the area of contact with the SIM card uses a 2-point contact structure, realizing a structure resistant to "temporary blackouts" that can easily occur with loads such as drop impact.
Its shielded cover is a full-hold type that ensures a secure connection. In addition, multiple soldered parts are provided to strengthen connection to the PWB.
A simple push (lock)/pull (eject) system is used for card insertion/extraction, and 6P (poles) and 8P (poles) models are available.
Date Released
June. 08, 2011
Press Release No.
927cs
Product Name

SIM Card Connector (low-profile model)
Drawing No. CLE1006-4301F
Features
1)Conforms to the GSM11.11 European standard for digital mobile phones.
2) It is a low-profile and space-saving model with dimensions of 1.32mm (height); 16mm (width), and 18.1mm (length).
3) The card detection switch uses a two-point contact structure, ensuring high contact reliability.
4) Card insertion is a push (lock)/pull (eject) system.
5) RoHS compliant product.
Major specifications

Voltage and current rating
0.7A, 5V, DC
Contact Resistance
70mΩ max.
Insulation resistance
100MΩ min.
Withstanding voltage
AC100V (1 min)
Operating Temperature Range
-40ºC to +85ºC
Operating life
5,000 times
Applications
Smartphones, tablet PCs, and other mobile communication devices.
Production Capacity
1,000,000 units per month
Inquiry
For more information, please contact the CS Division.