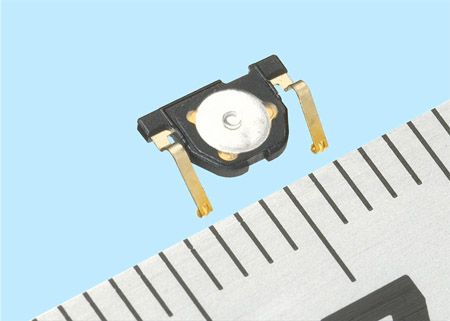 Development of a "Mini 1-Dome Switch (Mid-Mounting Type)" that is approximately 25% smaller than our standard products


  We are pleased to announce the development of our "Mini 1-Dome Switch (Mid-Mounting Type)". This is a compact version of our highly-popular "1-Dome Switch" which is aimed at the smartphone market. Release of our "Mini 1-Dome Switch (Standard Type)" series (release No.: 921FC) in March this year expanded our lineup of 1-dome switches.
 Even without changing the operating area size of the standard type, we managed to make the external dimensions of this product 25% smaller than standard products due to changes made to the terminal configuration.
As liquid crystal displays are being enlarged as much as possible in the small equipment market; such as mobile phones and smartphones; demand for smaller and thinner housing has increased. In addition, the increased reliability of switches is demanded considering that they sometimes become detached from the PWB due to impact caused when assembling or using equipment.
We have ensured contact reliability by adopting a "spring contact system", which has gained favorable reviews as a "1-dome switch" able to respond to such market needs.
We believe that this product will be used for a wider variety of devices in the future such as mobile devices, tablet PCs, and portable equipment.
Date Released
Jul. 28th, 2011
Press Release No.
930fc
Product Name
Mini 1-Dome Switch (Mid-Mounting Type)
Features

1) Mounting strength is increased and equipment reliability is improved due to the employment of a "spring contact system" whereby this switch, which is fixed on the housing, can be press-mounted on a PWB when installing it in equipment.
2) Providing an actuator function helps to lessen clicking sensation changes caused by displacement when being embedded.
3) Solder-free mounting on equipment contributes to the protection of the environment.

Major Specifications



Voltage and Current Rating
10mA, DC12V
Operating force
2.2N
Operation Stroke
0.16mm
External dimensions
5.6mm (W) × 0.85mm (D) × 3.4mm (H)


Market Introduction

October, 2011
Applications
Mobile phones, smartphones, and other portable equipment
Production Capacity
2,000,000 units per month
Inquiry
* For more information, please contact the FC Division.